Indonesia
Coronavirus – Indonesia travel advice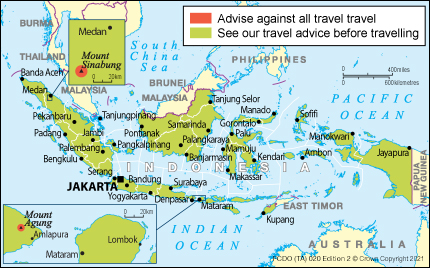 coronavirus travel health
Check the TravelHealthPro website for the latest information on COVID-19 risks in Indonesia
For further advice on travelling abroad and reducing the spread of respiratory viruses during the COVID-19 pandemic, see the TravelHealthPro website.
Indonesia dies from COVID-19
If COVID-19 is listed as the cause of death and you would like to arrange for a local cremation and ashes to be brought back, you will need to contact the local funeral home within 4 hours of the death registration to give your instructions. If you don't, a local funeral is likely to happen.
You will also need a letter of no objection from the embassy. This will be sent out the next business day.
Tested positive for COVID-19 in Indonesia and quarantined
If you test positive for COVID-19 during your stay in Indonesia, you will need to do the following:
No follow-up PCR testing: 10 days of quarantine. Quarantine can be at your home or hotel. At the end of the 10 days, you are considered recovered.

Take a follow-up PCR test: Isolate at home or hotel and take a second PCR test 5 days after testing positive. If this is negative, your Peduli Lindungi app certification will turn green and you will be considered recovered and ready to leave quarantine.
travel
Passengers on domestic flights
If you are fully vaccinated and boosted, you can travel without PCR or antigen testing, but must provide a hard copy (eg NHS vaccine certificate) and vaccinations via the Peduli Lindungi app at check-in Proof of Status.
If you received a booster immunization at the same time as your two initial vaccinations, you can travel without showing a negative COVID 19 test result.
Travelers who have been vaccinated twice must have a negative antigen test within 1×24 hours before departure or a negative RT-PCR test within 3×24 hours before departure. Boosters may be available on-site for you before departure. Passengers who have received their first dose of the vaccine must have a negative RT-PCR test 3×24 hours before departure. Travellers who cannot be vaccinated due to medical conditions must have a negative PCR test within 3×24 hours prior to departure. You will need a letter from your doctor explaining why you cannot be vaccinated.
Travelers under the age of 6 are exempt from the vaccination and negative COVID-19 testing requirements, but they must travel with an adult who meets all vaccination and COVID-19 testing requirements.
Children aged 6-17 were excluded from testing but will be required to provide proof of the full dose of the vaccine.
The test certificate should have a readable barcode or QR code and must be issued by a health agency approved by the Ministry of Health, a list of which can be found here
Additional PCR testing may be required if the test certificate does not have a QR code
Completed air travel declaration form if required
The complete Domestic Electronic Health Alert Card (e-HAC) can be found on the Peduli Lindungi app here
Travelers aged 12 and above must present proof of full vaccination in the form of a certificate on the Peduli Lindungi app. Proof of vaccinations for children aged 12 to 16 can be integrated into their parent app
We advise all passengers to check with their airline for the latest information before travelling
For international air passengers
Passengers leaving Indonesia via Jakarta without previous travel connections and departing directly from Jakarta are not required to present proof of COVID-19 vaccination. Any other passengers who have been vaccinated must show proof of COVID-19 vaccination.
Any unvaccinated passenger planning to leave Indonesia and need to travel within the country is exempt from showing proof of vaccination, subject to the following conditions:
They will not leave the airport area during transit
They get permission from the Port Health Office on their first departure
They display a complete and valid flight itinerary showing all departure and arrival points
Travel requirements change frequently, sometimes at short notice. For the latest information on testing requirements, please visit the Garuda Indonesia website.
Travelers need to install the Peduli Lindugi app.
entrances and borders
See entry requirements for what you need to do when you arrive in Indonesia.
Back to the UK
Be prepared to change plans
During COVID, no travel is risk-free. Countries may further restrict travel or introduce new rules at short notice, for example due to new COVID-19 variants. Check with your travel company or airline for any transportation changes that may delay your return home.
Plan ahead and make sure you:
can withdraw money
Find out what your insurance will cover
Arrangements can be made to extend your stay and leave for longer than planned
travel in indonesia
Emergency Public Movement Restrictions (PPKM) are being lifted rapidly across the country, with most facilities open.
stay
Hotels and private rental options remain open.
public places and services
Shops and services are easily accessible.
Healthcare in Indonesia
For English-speaking physician contact information, visit our list of health care providers.
Local medical standards in Indonesia can be poor, and some medical examinations cannot be performed reliably. With the Indonesian government announcing more and more cases of COVID-19, the health care system is at increasing risk of further severe stress. Access to routine and emergency health care may be limited.
Check out Health for more details on healthcare in Indonesia.
If you think you have symptoms of COVID-19, you should contact the nearest doctor or hospital. For more information on how to manage a patient with symptoms of COVID-19, please see our "Living in Indonesia" guide.
Get vaccinated against COVID-19 if you live in Indonesia
We will update this page when the Indonesian government announces new information about the national vaccination program. You can sign up to receive email notifications when this page is updated.
Indonesia's national vaccination program began in January 2021, using vaccines from Sinovac, Sinopharm and AstraZeneca. The plan currently focuses on priority groups and areas. The Indonesian government said British nationals living in Indonesia belonging to priority groups and areas would be eligible to be vaccinated if they opted into the scheme.
Residents with correct documents (KITAP/KTP Permanent Residence Permit/Indonesia ID Card) may be eligible for vaccination.
If you are in a priority group or area, in order to get vaccinated you will need: your passport; KITAS/KITAP (Permanent Residence Permit/Residence Authorization Card); Proof of Address; and SKTT (Surat Keterangan Tempat Tinggal – Proof of Residence) from Kelurahan . You should contact your local RT/RW (local government office) for information on your nearest vaccination location, or go to the nearest primary health care facility (called PUSKESMAS in Indonesian) for vaccination. It is also recommended that you check with your local healthcare provider for the status and eligibility of local promotions.
If you live abroad, find out more about COVID-19 vaccines, including those licensed in the UK or approved by the World Health Organization.
If you are a British national living in Indonesia, you should seek medical advice from your local healthcare provider. Information about the planned use of the COVID-19 vaccine in your country of residence, including regulatory status, should be obtained from local authorities.
finance
For information on the financial support you can get abroad, visit our Financial Aid Guide