Taiwan
China sends a large number of warplanes, naval ships to show force to Taiwan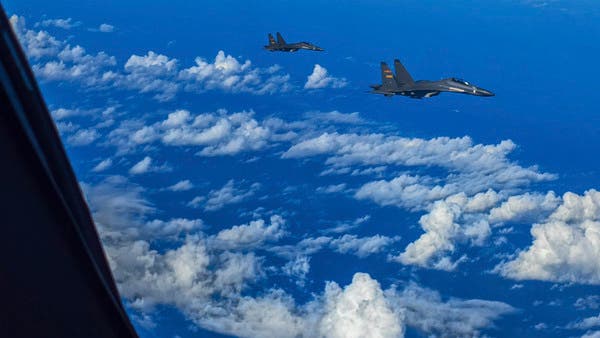 In this photo released by Xinhua, fighter jets of the Eastern Theater Command of the Chinese People's Liberation Army conduct a joint combat training exercise around the island of Taiwan, Sunday, Aug. 7, 2022. China said on Monday it would extend the exercise and threatened military exercises around Taiwan, disrupting shipping and air traffic and stoking fears of possible conflict in a region critical to global trade. (Associated Press)
China sent naval ships and a swarm of warplanes, including fighter jets and bombers, to Taiwan over two days ahead of annual military exercises aimed at defending against a possible invasion, Taiwan's defense ministry said on Wednesday.
From 6 a.m. Tuesday to 6 a.m. Wednesday, the People's Liberation Army sent 38 warplanes and nine naval vessels to circle Taiwan. From Wednesday morning to noon, the military dispatched another 30 aircraft, including J-10 and J-16 fighter jets.
For all the latest headlines, follow our Google News channel online or via the app.
Thirty-two of them crossed the center line of the Taiwan Strait, the unofficial border once considered a buffer zone between Taiwan and the mainland. Another 23 planes crossed the center line late Wednesday.
Taiwan is scheduled to hold its annual Han Kuang exercise later this month, in which Taiwan's military will conduct readiness exercises to prevent an invasion.
It will also hold the annual Macron exercise, designed to prepare civilians for natural disasters and practice evacuation in the event of an airstrike.
China claims self-governing Taiwan as its territory and has expressed displeasure with Taiwan's political activities in recent years by increasing the number of military aircraft it sends to the island. China also began flying naval ships and drones around the waters around the island last year.
During the drills on Tuesday and Wednesday, the PLA flew its H-6 bombers in a wide circle south of Taiwan, flying over the island before circling back to China's southern coast.
The largest military exercise in recent years was in response to former US House Speaker Nancy Pelosi's visit to Taiwan last August. It fired missiles over the island in a serious escalation, with military drills disrupting trade routes in the Taiwan Strait and forcing planes to reroute.
In April, the People's Liberation Army held large-scale combat readiness exercises in the airspace and sea around Taiwan in response to Taiwan President Tsai Ing-wen's meeting with US House Speaker Kevin McCarthy.
read more:
Taiwan says China's air force, navy hold large-scale drills
Taiwan says it spotted 34 Chinese military planes and 4 warships near islands
China hosts Russian warships passing through Taiwan, Japan