Vietnam
"Career Certificate" was awarded to 8 LIFULL Tech Vietnam MVP winners using NFT. We support increased corporate visibility through personal career development and human capital disclosure. | PitPa Co., Ltd. Press Release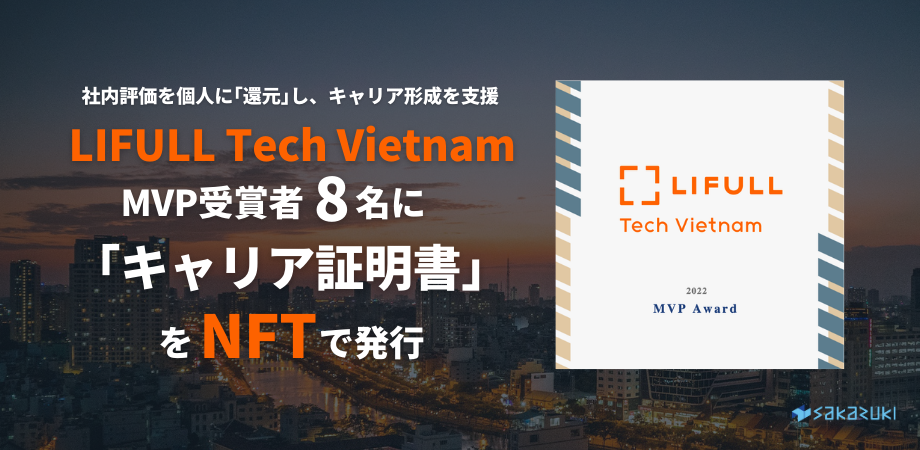 By utilizing two technologies of NFT and VC (Verifiable Credentials)
this career certificate accumulates personnel evaluations obtained by company insiders while protecting privacy, and is used for side jobs and job hopping.you will be able to
In addition, by opening human capital to the enterprise side, it can improve the recognition of the enterprise, strengthen the recruitment ability, and increase the recruitment ability of the enterprise.
*A standard advocated by W3C, the international technical standardization organization, to build a system that can verify the authenticity of information without querying the publisher.
1. LIFULL Tech Vietnam will issue a "Career Certificate" to 8 MVP winners in 2022, awarded to those who have achieved outstanding results throughout the year.
2. Through continuous accumulation of performance and work history, it becomes a work history that can be used across borders.
3. The return of internal evaluation to function as a "welfare program" aimed at increasing the recognition of Vietnamese manpower who are looking for jobs.
4. Through the third-party certification of job resumes, improve the matching accuracy of recruitment, promote the offshore development of Japanese enterprises, and solve the problem of population decline.
With the corporate philosophy of "making everyone's life fulfilling", LIFULL Group is committed to creating an environment where employees can work with a sense of purpose. Established in 2017, LIFULL Tech Vietnam, a subsidiary of LIFULL Group, has been developing software and application development business.In Vietnam, where the company is located,Problems of high brain drain rate and excessive mobility compared with Japanexist. For background, it is said to be in the middle of economic growth,They are more likely to choose the highest paying job now rather than their future career plans, which leads to high turnover rates.
It's always been there.Therefore, LIFULL Tech Vietnam will deal with this problem by:Designed to increase engagement and retention by providing personal career support
.Specific actions include thinking about the ideal image for 3-5 years through 1on1, assigning appropriate reverse calculation work according to the individual's career vision, as well as the MVP system and the NFT of this award certificate.
The MVP system is awarded to people who achieve high results throughout the year, and they are selected from among those who are highly rated by customers, team leaders and managers.this time,In addition to converting MVP certificates into NFTs, by simultaneously issuing "career certificates" that can return internal evaluations to individuals, individuals can accumulate and utilize achievements and internal evaluations to achieve career development.
Will
Going forward, LIFULL Tech Vietnam will continue to support individual career development by issuing NFTs related to human capital, while aiming to increase corporate recognition, strengthen recruitment capabilities, and increase employee engagement.To protect privacy, the "operator certificate" provided by our company isIssued by combining two technologies: NFT, which is publicly available on-chain information, and VC (Verifiable Voucher), which can be made public or private on the receiving side.
doing.Also, by using our own system (sakazuki),The personnel data that has been siled up to now is collected as "high-reliability work history information issued and certified by the company to which it belongs," and individuals who receive it are used as digital work histories.
you will be able toIn Japan, as the number of birthrates declines and the aging population intensifies, there is a shortage of IT personnel. It is expected that there will be an increase in the demand for offshore development in which part of the development business is outsourced to overseas companies in the future. However, it is said that there are more fake occupations overseas than in Japan.
In order to prevent mismatches in recruitment, more certainty of information is required, and the importance of job resumes as "company endorsements" is expected to increase.
Will
※Reference: 2019 Premiere Trend Report-First Advantage Consulting
▼Work history display screen on sakazuki (sample)
▼ You can verify the content of the certificate online at any time, just press the "Verify" button.
▼ You can also view NFT certificates on the NFT marketplace "OpenSea".
https://opensea.io/ja/collection/career-credentials
As a system development company of the LIFULL Group, it recruits and trains outstanding Vietnamese talents to develop products for Japanese companies. This time, for employees who have won the annual MVP award, the acquisition of MVP and its evaluation content will be issued as human capital NFT, and employees can accumulate part of our company's evaluation. We believe that opening up human capital will gain corporate acceptance, which will effectively strengthen recruiting capabilities and improve engagement.
"Sakazuki" promotes the growth of "individuals" by issuing career certificates, and leads any company to provide human resource services to companies that produce human resources by linking their evaluation in the human resource market with the improvement of corporate recognition.
■Introduced results: Force Valley Concierge Co., Ltd., Menshoku Co., Ltd., Nippon Telegraph and Telephone Corporation (NTT), Chiba Institute of Technology, etc.
︎Click here to learn more about sakazuki: https://sakazuki.xyz/
In recent years, the environment around companies has changed significantly due to changes in the industrial structure due to the Fourth Industrial Revolution, increased global competition, and changes in personal career views due to the COVID-19 crisis. Under such circumstances, Japan's labor population decline due to declining birthrate and aging population is becoming more and more serious, and it is expected that it will become more difficult to secure human resources in the future.
In order to maintain competitiveness in such an environment, companies must broaden their horizons not only in Japan but also overseas, acquire excellent human resources, respect individual strengths, characteristics, and diversity, and cultivate human resources.
However, with fewer job seekers and businesses on the "chosen" side, there is a need to create an attractive work environment for job seekers. Especially excellent job seekers who are seeking self-realization and career development often pay more attention to the company's investment attitude towards "individuals".
Thus, a third-party certificate issued by a business, known as a "professional certificate," effectively promotes the recognition that a business is a company invested in "individuals." By issuing professional certificates and returning work resumes to "individuals", the company's reputation as a company that produces human resources can be improved, and it can become a company that is "chosen" by excellent human resources, thereby achieving sustainable growth.
* IT human resources supply and demand survey report – Mizuho Institute of Information Technology (March 2019)
https://www.meti.go.jp/policy/it_policy/jinzai/houkokusyo.pdf
[Announcement]Our representative Ishibe will discuss the future of decentralized identity (DID/VC) at Microsoft Japan's Shinagawa headquarters on May 9 (Tuesday)! Discussions of the latest case studies and key players will be on stage. Details︎https://peatix.com/event/3563249/view?k=6da7afd728c0b91b5c936d3f574b6e0489c20497
*Participation is free
・Name: LIFULL Tech Vietnam Co., Ltd.
・Location: TS Building 6 Floor, 17 Street No 2, Cu Xa Do Thanh, Ward 4, District 3, Ho Chi Minh City
・Representative Director and President: Shunsuke Fujita
・Business content: Development and operation of LIFULL Group services such as LIFULL HOME'S
・Establishment date: April 2017
・Official website: https://lifull-tech.vn/
LIFULL's corporate philosophy is "Making Everyone's Life Fulfilling." We aim to solve social problems that hinder peace of mind and happiness through our business, from the problems faced by individuals to the problems of the world beyond them. This is a social enterprise. Currently, as a group, we provide services in 63 countries around the world, and we are expanding our business in various fields in order to realize a society where everyone lives and lives with peace of mind and happiness.
PitPa Ltd
Head office address: Shibuya Parco DG Building, 15-1 Udagawa-cho, Shibuya-ku, Tokyo 150-0042
Representative Director and President: Tatsuya Ishibe
Date of establishment: May 2, 2018
Capital: 170 million yen
Official site: https://pitpa.jp/
Main business:
・Podcast production and marketing support business
・Recruitment support business using blockchain
(About PitPa Co., Ltd.)
With a mission to "redefine media and deliver a sustainable economy", PitPa uses cutting-edge technology to grow podcast production and blockchain businesses. In the blockchain business, starting from the issuance of "membership card NFT", we can maximize the potential of "individuals" and create new opportunities through NFT of human capital-related certificates such as personal education, work history, and skills. Develop into a human resource enterprise. We will continue our efforts to realize a society where individuals can play an active role by building businesses that utilize technology and culture that we are genuinely interested in.
▼Query blockchain business "sakazuki"
・Official website: https://sakazuki.xyz/
・E-mail address: support@pitpa.jp
・Inquiry form: https://blog.pitpa.jp/forms・Official Twitter: @sakazukixyz



Source link