HongKong
Business groups warn Hong Kong travel curbs are a 'nightmare'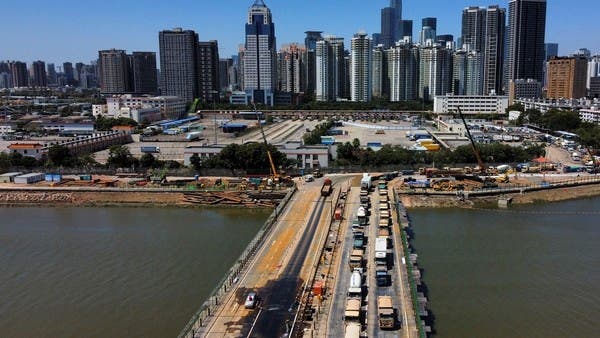 A general view shows a temporary bridge from Shenzhen to Hong Kong for transporting materials and workers to set up a coronavirus disease (COVID-19) isolation facility in Lok Ma Chau during the COVID-19 pandemic in Hong Kong, China, on March 9, 2022 year (Reuters)
coronavirus
Hong Kong's strict pandemic travel restrictions, including a ban on frequent flights, remain a "nightmare" for businesses, despite the recent easing of rules, the European Chamber of Commerce said.
The business group sent a letter to city leaders on Wednesday urging her to remove the flight "circuit breaker" mechanism, which temporarily suspends routes if a plane is carrying too many infected passengers.
For the latest headlines, follow our Google News channel online or via the app.
"Almost daily, our members and other residents report that they are unable to find their way back to Hong Kong, or see their business trips cancelled," the European Chamber of Commerce said in a letter to Lam.
"Many of us have given up," the chamber said, adding that the policy was a "nightmare" for travelers.
Hong Kong's daily coronavirus infection count has slipped back to triple digits, as the city weathers a wave of twilight that has killed more than 9,000 people since January.
But the city remains isolated internationally as it sticks to a lighter China zero-COVID strategy.
The Hong Kong government recently eased some measures, reducing the mandatory hotel quarantine for all arrivals from 14 days to seven days.
It also allowed non-residents to fly into Hong Kong for the first time in two years.
However, any airline with five or more positive cases will be banned from flying on that route for five days.
The European Chamber of Commerce said the flight suspension mechanism had resulted in "constant cancellations" and some European airlines had stopped flying to Hong Kong entirely because of the policy.
The Asian financial hub has issued temporary bans on more than 80 routes this year.
The European Chamber of Commerce also called on the government to lift the quarantine on entry, noting that people who test positive locally can self-isolate at home, but those from overseas cannot.
Last week, the Australian Chamber of Commerce suggested Hong Kong follow Singapore or Japan in reducing quarantine requirements for business travellers.
The group also said the circuit breaker mechanism "unfairly penalized" passengers, businesses and airlines.
"The key ongoing impact of the circuit breaker regime is to create significant uncertainty for potential travellers, businesses and airlines without apparent public health benefit," Austcham wrote in a letter to Lam.
The group added that Hong Kong needs to ease restrictions urgently in order to "remain relevant for international business and retain the talent needed to support its status as an international financial centre".
Lam said last week that the city had no plans to further relax border controls because they were needed to reduce the importation of infections.
Despite reopening its borders to non-residents starting May 1, Hong Kong has seen low numbers of international tourists.
read more:
Millions in Beijing urged to work from home to fight COVID-19 outbreak
EU firms consider shifting investments in China elsewhere due to COVID-19 containment
read also