Vietnam
BIM LAND and Hyatt enter agreement at Vietnam Tourism Summit 2019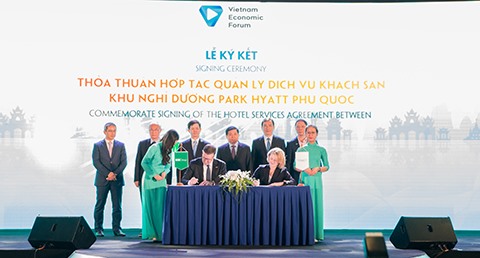 On the afternoon of September 12 in Hanoi, BIM Land, an important subsidiary of BIM Group, and Hyatt Hotel signed an agreement for Park Hyatt Phu Quoc Island at the Vietnam Tourism Summit.
Park Hyatt Phu Quoc is Park Hyatt's first branded resort and apartment in Southeast Asia. It is the most luxurious brand under the Hyatt Group and the resort with the highest positioning in Vietnam's real estate market.
Park Hyatt Phu Quoc covers an area of ​​60 hectares with a pristine and rare private natural beach. From the mountains to the sea, there are 65 villas in total. The architectural style and design are extracted from local cultural elements, traditional handcrafted arts, combined with contemporary atmosphere to create a unique appearance.
Park Hyatt Phu Quoc is a master of detail, offering luxurious personal journeys, designing unique experiences based on 40 years of experience and knowledge from one of the five most luxurious resort brands in the world.
At the signing ceremony, Mr. Adam Owen Riley, BIM Land Hotel Business Director, said:
"Park Hyatt Phu Quoc is a project that sets a new milestone for BIM Group and Hyatt Group to conquer high-end unique real estate projects. We believe that Park Hyatt Phu Quoc is not only a resort, but also a living masterpiece, worthy of owning and collecting .
With its experience in investing and developing resort real estate, especially high-end resorts, BIM Group believes that strategic cooperation with leading international hotel brands on Forevermark resort projects such as the Park Hyatt Phu Quoc will help enhance luxury tourism in Phu Quoc Industry, because the theme of this year's Vietnam Tourism Summit is "Vietnam Tourism Takes Off".
The agreement signed with the Hyatt Hotel Group at the summit is an affirmation of BIM Group's position in the investment and development of infrastructure and luxury tourism real estate in Vietnam.
The Vietnam Tourism Summit is an annual national event organized by the Vietnam Economic Forum (ViEF). This is the second time that BIM Land, an important subsidiary of BIM Group, participated in the discussion session of the conference as a main sponsor.
About Hyatt
Park Hyatt Hotel is a luxury hotel brand management company under the famous multinational hotel group Hyatt Group. Hyatt Group was established in 1957 and is headquartered in Chicago, USA.
Hyatt Hotels is the world's leading hotel group with 19 luxury brands. As of 2018, the group's portfolio included more than 850 properties in 60 countries.
The Group's subsidiaries develop, own, operate, manage, franchise, license and service luxury hotels, resorts and residential complexes such as: Park Hyatt, Miraval, Grand Hyatt, Alila, Andaz, The Unbound Collection by Hyatt, Destination, Hyatt, Hyatt, Hyatt Ziva, Hyatt Zilara, Thompson, Hyatt Centric, Hyatt House, Hyatt Place, Joie de Vivre, tommie, Hyatt Residence Club, Exhale.
About BIM Land
BIM Land is a tourism and real estate infrastructure development company under BIM Group, a multi-industry economic group in Vietnam that focuses on four main areas: tourism infrastructure development and real estate investment; renewable energy; agriculture-food and business services .
BIM Land owns many large tracts of land in Vietnam, especially areas with great potential for tourism development such as Halong Bay and Phu Quoc Island. BIM Land is proud to be a leading tourism infrastructure developer and a preferred partner of many domestic and foreign hotel management brands such as Park Hyatt, InterContinental, Regent, Crowne Plaza, Fraser Court, Citadines, Sailing Club, H&K Hospitality, etc.
With a global perspective, BIM Land flexibly develops real estate projects, ranging from high-rise apartments and townhouse complexes, to luxury high-quality beach resorts and villas, to meet market demand and the characteristics of each destination.