Singapore
Best Travel and Tour Package Deals!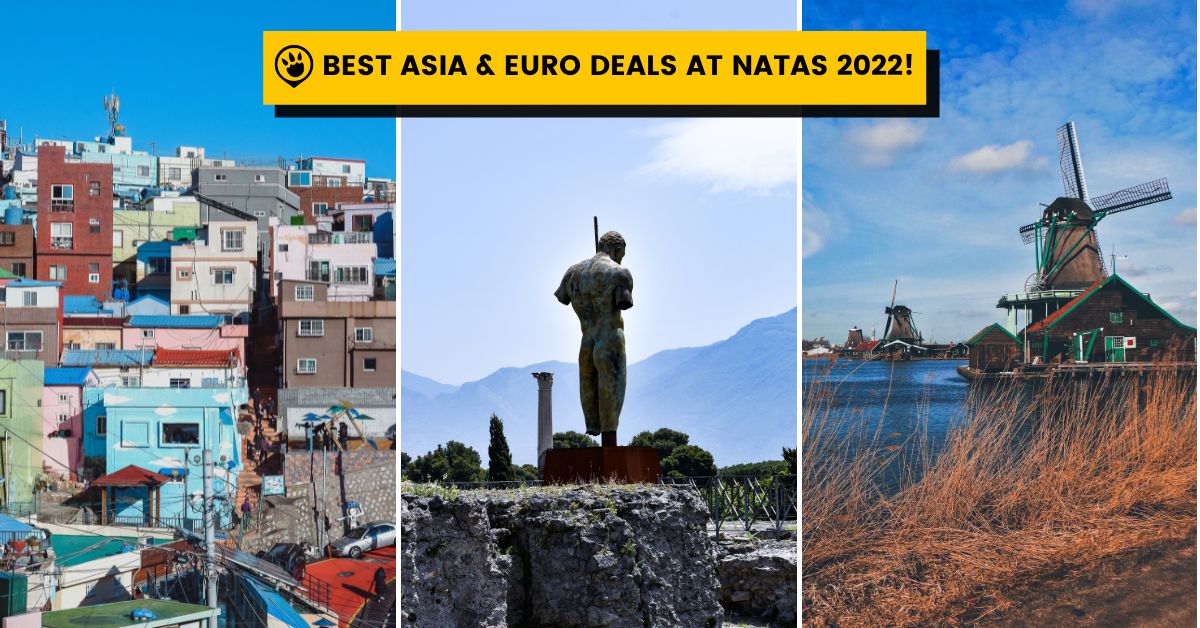 Looking to sit down one-on-one with a professional to find the best deal for your next vacation​​​​Look no further, NATAS Expo Will be back at Singapore Expo 5 from 12-14 August 2022! With over 40 exhibitors, you can be assured of finding the best NATAS Fair deals! Plus, you'll have a chance to win 12 grand prizes in the NATAS Big Draw, a chance to win a pair of Singapore Airlines business class round-trip tickets to London, and more! Plus, get up to $100 cash back when you purchase select travel packages with your Mastercard at NATAS Holidays!Visit TripZilla's NATAS Expo 2022 page for all the latest information.
Also read: NATAS 2022 Singapore Travel Fair: Dates, Routes and Details!
As we count down to Friday, let's take a look at the beloved destinations you can find in NATAS Asia and Europe specials:
Provider: Nam Ho Travel (Booth 5H30)
Departures: October 2022 – February 2023
Price: S$1,388
Deal Highlights:
✓ Bursa – the "green" city at the western end of the Silk Road
✓ Cumalikizik – the oldest Ottoman village in Bursa
✓ 2 nights in Cappadocia
✓ 3 special meals to enhance your dining experience
cross borders Europee and Asiathe best of both worlds in gorgeous turkey!
along with 10D7N Classic Turkey (Winter) Satisfy your culinary cravings with the NATAS Holidays package, stay at a luxury 5-star hotel in Turkiye and enjoy three speciality meals. Stroll the ancient ruins at the largest ancient site in Turkiye; Ephesusand one of the largest and oldest markets in the world; Grand Bazaar.
Led by some of the most beautiful wonders in the world, winter in Turkiye offers a fascinating sight for the weary traveler. That said, the longest river in Turkiye; Kizilirmak, well-preserved gardens and parks, and valleys with unique volcanic formations, are all must-sees.In addition to natural wonders, discover beautiful man-made structures such as blue mosquea most popular attraction and place of worship, Hagia Sophiaand Topkapi Palaceas the main residence of the Ottoman sultans for nearly 400 years.

Provider: Asa Holidays (Booth 5H21)
Departure dates: November 2, 2022 to June 28, 2023
Price S$1,238
Deal Highlights:
✓ ​​​Andong Hahui Folk Village and Cheongdo Wine Tunnel
✓ Visit Songdo Skywalk + Cable Car
✓ Enjoy Santorini Village + Graffiti Street
✓ Hot Spring & Fruit Picking Experience
✓ Visit the local Jalgachi fish market
✓ Visit Busan X Sky and Bulguksa Temple
✓ Shopping at Gwangjang Market and Myeongdong
If you want to taste local specialties, look no further 8D6N Best of Korea + Santorini, where you can sample local wines, food and activities.from the panorama Songdo 365 meters from the sea Songdo Skywalkexplore UNESCO Buddhist Templethere is sure to be something for everyone.
Some highlights to look forward to include a shopping tour East Gate, Myeongdongand Sinchon shopping street. In addition, you can also go to the Korean souvenir convenience store to pick fruits and buy souvenirs.Most importantly, visit the amazing santorini village and transparent bridges Busan X Sky exist Busan; A bridge made entirely of glass!

Provider: Italy Ergo: Travel (Booth 5H03)
Departure time: October 2022 – October 2022
Price: S$6,150 (1 for 1)
Deal Highlights:
✓ Small groups are limited to 14 people
✓ Spectacular lakes, mountains and the Langhe-Monferrato wine country, a UNESCO World Heritage Site since 2014
✓ Take a private boat tour of the lake
✓ Visit a private noble villa and its exquisite gardens
✓ The world's most prestigious truffle market in Alba
✓ Visit vineyards and dairy farms and taste local wines and cheeses
✓ Unlimited free public transport
Experience the enchanting autumn Piedmont When you sign up for them, with Ergo in Italy 14D13N Autumn in Piedmont pack.Travel in style as you visit spectacular lakes Lange-Monferrato, UNESCO World Heritage Site, on a private boat. Staying in a strategic location in the heart of the city, you can enjoy every place just by stepping out of the front door!
Whether you are a foodie looking forward to following a truffle hunter for a truffle hunting demonstration, or a fashion lover looking forward to a major fashion house specializing in the production of world-renowned fine wool fabrics, autumn in Piedmont will be an unforgettable experience.

Provider: Chan Brothers Travel (Booth 5H14)
Departure Date: Now – March 2023
Price: $4,988
Deal Highlights:
✓ Goldfields Mining Centre with gold panning experience
✓ Tekapo Springs
✓ Skyline Rotorua cable car and sleigh ride with champagne breakfast
✓ Enjoy a western dinner at New Zealand's most romantic restaurant, Aorangi Peak, with a stunning night view of Rotorua
a great country in Asia Pacific area, new Zealand It is every nature lover's dream. Start your holiday with a view of Christchurch, the most British city outside of England.Then, marvel at the famous view Fox Glacier, a wonderful 13 km glacier. Naturally, in New Zealand, film lovers will recall many of the locations filmed in New Zealand. Lord of the Rings and Hobbit. Take a movie set tour watchand be blown away by the natural cinematic environment.
Perfect for a romantic getaway with S$400 off for couples 11 Days 9 Nights New Zealand Alpine Views pack! Complete the romantic atmosphere with a meal at Aorangi Peak, New Zealand's most romantic restaurant.

Provider: Nam Ho Travel (Booth 5H30)
Departures: October 2022 – March 2023
Price: S$2,188
Deal Highlights:
✓ Rhine Falls – the magnificent waterfall in northern Switzerland
✓ Zaanse Schans – one of the most culturally rich cities in Europe, a taste of country life
✓ Visit Roermond Designer Outlet
✓ 3 special meals to enhance your dining experience
Calling all nature lovers, you will be delighted when you travel with Nam Ho Travel 11D8N European Explorer On the tour, you will be surrounded by magnificent waterfalls, mountains and other breathtaking landscapes.The tour will take you to the destination Switzerland, Germany, Netherlands, Belgiumand France. Enjoy stunning views of the city such as Zaanse Schansa glimpse into the industrial history of the Netherlands and its traditional houses, windmills, warehouses and workshops.
Be sure to plan the best time for your trip, as some events are seasonal, such as the world-renowned Moulin Rouge show.

Provider: Italy Ergo: Travel (Booth 5H03)
Departure Dates: April 2023 – May 2023
Price S$5,660 (1 for 1)
Deal Highlights:
✓ Small groups are limited to 14 people
✓ 4 UNESCO World Heritage Sites including Pompeii, Herculaneum, Kumai, Paestum and the Royal Palace of Caserta
✓ See the spectacular Sorrentine and Amalfi Coast on a private boat
✓ Visit a real buffalo farm and mozzarella cheese production facility for a hearty tasting
✓ Attractions normally inaccessible to the public
✓ Quality accommodation in the city centre or overlooking the sea
✓ Free entry to public museums and archaeological sites
✓ Unlimited free public transport
You know what they say; when in Rome, do like a Roman, so find a travel buddy for Ergo's 1-FOR-1 promotion 14 days 13 nights Naples and Amalfi Coast Travel through picturesque Naples and the Amalfi Coast like a local!
Revel in breathtaking views of the Bay of Naples and the Volcanic Area Phlegraean realm. Plus, there are plenty of opportunities to sample local delicacies such as the best pizza, local cheeses, street food and fresh seafood! Due to the small group size, you will have plenty of time for personal shopping, museum or sightseeing trips. Taste the atmosphere of a majestic European city in this package deal you can't miss.

Provider: Asa Holidays (Booth 5H21)
Departure Dates: November 2022 – June 2023
Price S$2,588
Deal Highlights:
✓ Visit the Sagrada Familia
✓ Seville UNESCO World Heritage Site Seville Cathedral
✓ Lunch of the famous suckling pig in Segovia
✓ University of Salamanca, the oldest university in Spain
✓ Shopping at Factory Outlet
Many of us are familiar with,​​​​Spain Home to well-preserved architecture and delicious food.Tour a hidden gem along Spain's familiar sights Portugal and Porto. with this 13D Spain and Portugal + Porto Bags, you'll never run out of new sights to admire or new foods to taste.
Experience the unique charm of Spain, Portugal and Porto – cities with fresh seafood, world-renowned architecture and vibrant culture. So if you want to explore Europe without breaking the bank, this travel package might be just what you are looking for!

Provider: JTB (Booth 5H17)
Departure Dates: December 9, 2022, December 15, 2022, January 23, 2023
Price: S$4, US$688
Deal Highlights:
✓ Knife maker experience (60 minutes) and museum, Japanese sweets "Wagashi" making experience (40-60 minutes), strawberry picking, Ashikaga Flower Park lighting
✓ Takayama Morning Market & Old Town, Shirakawa-go, Kenrokuen, Omi-cho Market, Michino Station Namegawa, Marine Dome Nou Crab Valley, Snow Monkey Park, Karuizawa Prince Shopping Plaza, Shiraito Falls, Kusatsu Onsen Town, Koizumi Rice Lotus Shrine
✓ Hearty Japanese multi-course dinner Japanese kaiseki or buffet in ryokan/hotel, local cuisine in restaurant
✓ 5 nights authentic Japanese hot spring experience in Takayama, Kaga Onsen, Unazuki Onsen, Yudanaka Onsen and Kusatsu Onsen.1 night stay in Tokyo
because it's not long Japan It opened its doors to the leisure traveler and is sorely missed as a tourist destination. Eager to catch up on Japan's best products?Look forward to fresh local food, unique experiences and dazzling attractions from JTB 9D6N Central Japan Winter Food with Snow Monkeys pack.
Illumination Shows You Can't Miss Koizumi Inari Shrinewith over 4.5 million lights, or see cute snow monkeys up close Snow Monkey Park. Of course, you have to see Kenrokuen Japanese Garden, and one of the most beautiful gardens in Japan. And, what better way to bring home than a handcrafted souvenir?go to Omi Town Marketwhere you will learn to make Japanese sweets (wagashi).
Of course, there is no better way to experience winter in Japan!
Want to learn more about the irresistible upcoming travel deals, or want to learn more about similar options?Check out the travel deals available at NATAS Expo August 12-14, 2022!