HongKong
Best travel accessories in Hong Kong, have a nice trip
Travel the world with our handy travel accessories list (Photo: Olena Rudo)
Ready to take off? Until you have these Hong Kong travel accessories in your bag.
Sure, we're all traveling these days, but are you traveling? Excellent? Whether you're looking for a quick getaway or a leisurely honeymoon to a private island, be sure to pack our selection of Hong Kong travel accessories. Combining style and utility, the best travel gadgets always ensure a smooth and stress-free journey, allowing you to fully immerse yourself in the change of scenery. No more "Where's my passport?" moments of panic. Or "my phone is out of battery!" – these travel gear will be your trusty companion on every trip.
Fly in style and comfort with the best travel accessories in Hong Kong
1. KEF: Mu7 Wireless Earphones
Whether you're staying up late for entertainment or trying to fall asleep to the constant hum of an airplane engine, KEF's Mu7 wireless headphones will help block out the noise throughout your journey. Tried and tested by our team, this set of over-ear headphones works great for both passive and active noise cancellation. It's also designed with a headband that provides a comfortable acoustic seal, and memory foam ear pads that mold to the shape of your head to help minimize pressure on your ears. In addition, the earphones are stylish, lightweight and compact, and the earcups can be swiveled and folded flat for easier portability.
KEF has several stores and distributors in Hong Kong.
2. Tumi: 19 Degrees International Expandable 4-Wheel Carry-On Luggage
Tumi is one of our preferred luggage brands in Hong Kong and a reliable supplier for all things travel related. In its latest Fall 2023 collection, the 19 Degree International Expandable 4-Wheel Carry-On Luggage caught our eye for its versatility, durability and aesthetics. We love the new blush/navy liquid print colorway and the easy zipper extension! Plus, the 19 Degree collection showcases sustainability awareness, as it's made with a shell made from post-industrial recycled materials and a liner made from plastic bottles, perfect for the conscious traveler.
Tumi has several stores in Hong Kong.
3. Lojel: Travel wallet
cash? Check. passport? Check. Boarding pass? Check. Carry all your travel essentials with you in the Lojel Travel Wallet, designed for the modern on-the-go explorer. Available in chic shades like warm gray or black, this wallet features eight interior pockets so you can organize money, travel documents, pocket-sized essentials and more. The exterior is coated with 600D polyester, making the wallet durable and waterproof.
By the way, have you spotted the brand new Lojel Lab in Tsim Sha Tsui? The new branch is currently offering an in-house personalized service for Lojel's Iloj Collection. AirTag holders, phone straps, key cases, and other items are all clever tools that can help organize and simplify your everyday life.
Lojel has several stores in Hong Kong.
4. Rimowa: Packing Cubes
Messy packing often destroys the usable space inside a suitcase. To maximize the practicality of your luggage, try Rimowa's packing boxes. Available in petal pink or black in three sizes and shades, the lightweight case helps you organize your clothes, toiletries and tech. Crafted from recycled nylon and 100% polyester, this travel accessory is stretchy, waterproof and eco-friendly. Plus, for easy storage, the cubes can be laid flat and stacked together when not in use – clever!
Rimowa has several stores in Hong Kong.
5. Hong Kong International Airport: MyTAG luggage tags
MyTAG luggage pass

"MyTAG Baggage Link" is not just a luggage tag. It also has a luggage delivery notification function. Through the My Flight app, it will notify you when your luggage will be delivered to the luggage claim tie, so it will be easier to pick up your luggage! "MyTAG" is available for sale at HKairportshop.com and the airport passenger service center.Download Hong Kong Airport My Flight app: iOS version: https://goo.gl/aXMnQv Android version: https://goo.gl/kZRFTB MyTAG by HKIA is more than a luggage tag! It will notify you via the My Flight app when your luggage is being delivered to the baggage reclaim belt. MyTAG is available for sale on HKairportshop.com and the customer services centers at HKIA. Download My Flight now! Apple Store: https://goo.gl/aXMnQv Google Play: https://goo.gl/aXMnQv ://goo.gl/kZRFTB#MyTAG #HKGMyFlight #HKIA Shine Chui Tien You 黄又南Wong You Nam #祖与店

Posted by Hong Kong International Airport Hong Kong International Airport on Friday, March 2, 2018
Wondering if you'll have time to use the bathroom after landing? Find out with MyTAG at Hong Kong International Airport! MyTAG is an official merchandise at our city airport, giving travelers peace of mind by notifying them when their luggage is ready for claim at the baggage claim belt. Simply register your tag on the "My HKG" mobile app and stick it on your luggage handle before check-in. Once at the airport, connect to the internet (there is free Wi-Fi), and voila! You will receive notifications about the whereabouts of your luggage directly to your mobile phone.
Hong Kong Airport Shop, Hong Kong International Airport, Chek Lap Kok, Hong Kong, page 14 2190 0900
6. Aesop: "Departure" skin care set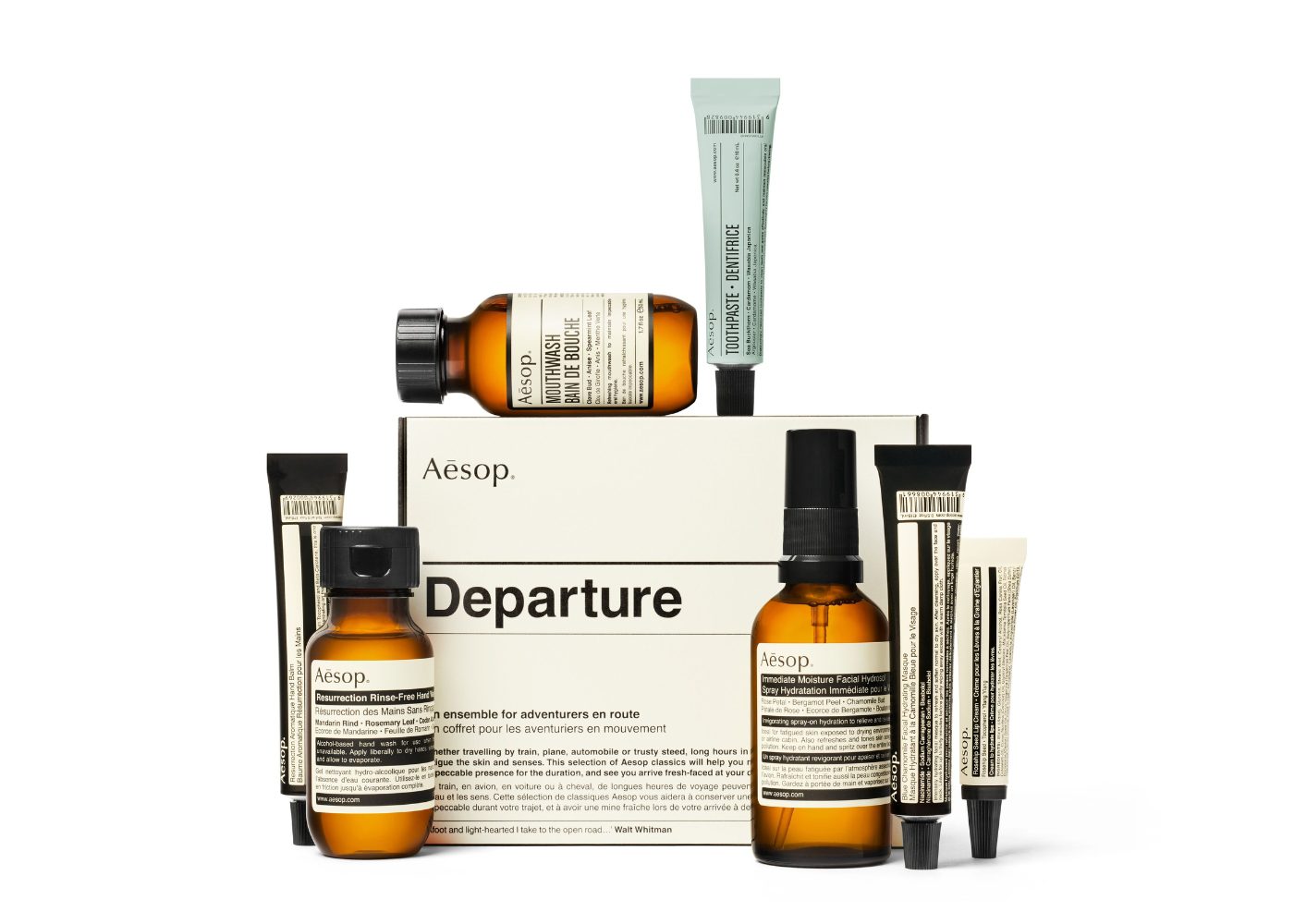 Repacking skincare products into small, travel-friendly containers can be a hassle, and it's easy for us to leave a bottle (or two) behind. But, with Aesop's "Go" travel kit, you don't have to worry anymore. Packed in a portable carton, the set contains seven travel essentials, all of which comply with international restrictions for the carriage of liquids on board. You'll find Revitalizing Aromatic Hand Cream; Instant Moisturizing Facial Water; Mouthwash; and other items to help keep you clean, hydrated, and refreshed throughout your flight. Frequent fliers, take note of this beautiful set of Hong Kong travel accessories!
Aesop has several stores in Hong Kong.
7. Calmed & Co: Calming Patch
You've seen the mosquito repellent patch, now get ready: Hong Kong's first refill patch! Launched in 2022, Calmed & Co's supplement patch uses transdermal technology to deliver active ingredients through the skin. The current line of products includes Inner Peace, designed to bring calm and relaxation; Feel Strong, specially formulated to boost immunity; and Sweet Dreams, designed to improve sleep quality. With a wear time of up to eight hours per patch, the Calmed patch is the perfect Hong Kong travel accessory for when you need to rest and recharge mid-flight.
Learn more about Calmed & Co online.
8. Nemu Nemu: Polar Bear Two-Way Travel Pillow
Once upon a time, there was a polar bear named Lucky who decided to soothe our weary hearts with his cuteness… This is the story of the protagonist of Nemu Nemu Animals – we simply cannot resist his charm! The good news is, you can take him with you when you travel, because the Lucky is a two-way travel accessory that can be used as a throw or neck pillow. Simply move the beads inside the pillow to change it from one way to another. The headrest is made from cool-to-the-touch material to keep you cool in summer and on sweltering long-haul flights.
Buy Nemu Nemu's Polar Bear Two-Way Travel Pillow from Homeless in Hong Kong.
9. Casetify: PowerThru Power Bank
Stay connected on the go with Casetify's PowerThru Power Bank. This portable charger has a high capacity of 5,000 MaH for fast and efficient charging. It also comes with pass-through charging, which can charge your smartphone and power bank at the same time. Best of all, PowerThru is MagSafe compatible and strong magnetic, which means it attaches securely to the back of your phone without the need for a charging cable. With its slim and compact design, you can easily hold your phone and charger in one hand, or put them together in your pocket.
Please note that power banks can only be carried in hand luggage, not in the hold!
Casetify has multiple branches in Hong Kong.
10. Momax: 1-World Travel Adapter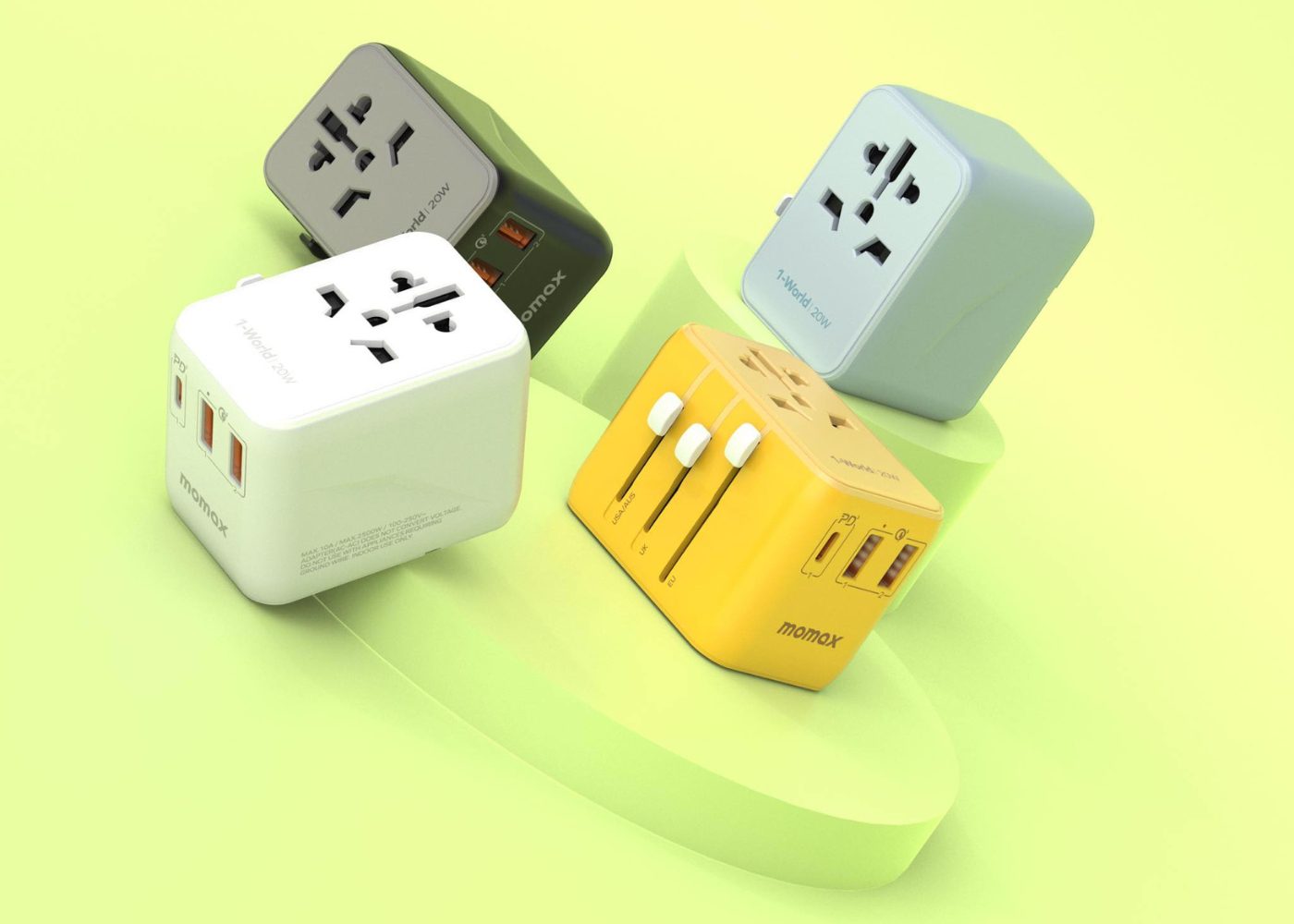 Momax, a well-known brand in consumer electronics, offers a range of universal adapters that are the ultimate travel accessory in Hong Kong. Momax's adapters have built-in pins and sockets for Japan/US, Australia, Europe, and the UK, all in one, covering over 150 countries around the world. Each adapter can charge up to five devices simultaneously. Best of all, the 1-World 100W Travel Adapter (UA10) has incredible power delivery and supports fast charging via a USB-C cable – even for laptops. Say goodbye to bulky chargers!
Buy directly from Momax, or through their resellers in Hong Kong such as Fortress and Yoho.