Indonesia
Bali Travel Guide: Know Before You Go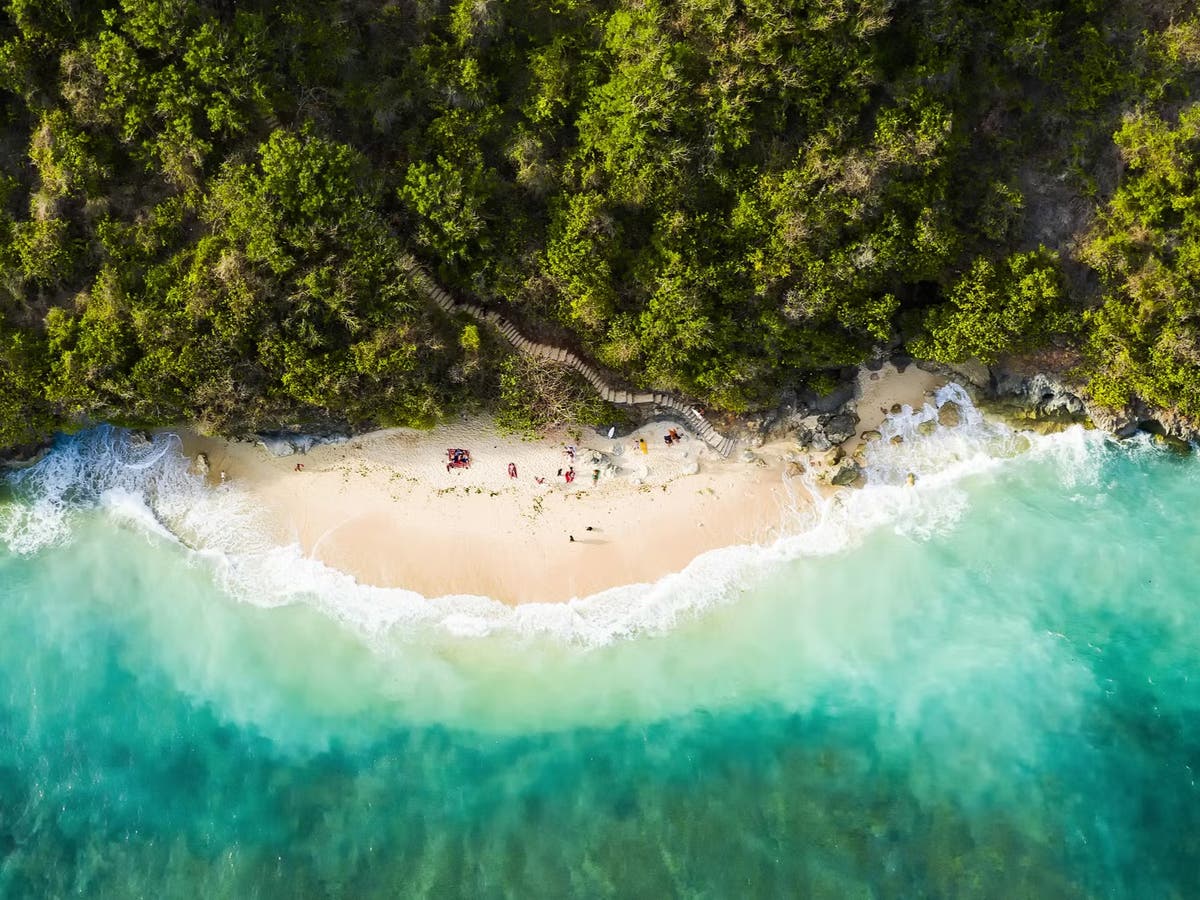 Bali has been synonymous with a tropical paradise since Charlie Chaplin visited it in the 1930s. It's a place that delivers all the magazine island clichés: world-class diving, rhythmic surf breaks, evergreen rice terraces and cliff-top temples, not to mention gorgeous spas and beach clubs.
Like many places, the destination has struggled with overtourism, but Bali has a rich and unique culture and is the gateway to more than 17,000 other islands in Indonesia – two good reasons to seek out the island's serene center.
Travel Restrictions and Entry Requirements
Entry requirements change frequently: check on Welcome Back to Bali. As it currently stands, adult travelers should carry paper proof of their Covid vaccination (at least two doses) and complete a customs form online or at the airport. UK and EU nationals need to purchase a 30-day visa on arrival at the airport or online; the cost is IDR 500,000 (£27). You can extend it one more time for 30 days.
best time to go
Bali's weather is best during the dry season, which coincides with European summer and Australian winter, but it's a bad time to visit. The island's spotty infrastructure groans at the seams, and it can take an hour for a taxi to leave the airport grounds. The low seasons—April to May and September to October—are better options. Europeans often struggle with humidity during the peak of the rainy season in January and February.
Popular Regions and Cities
ubud
Ubud is the spiritual and cultural capital of Bali. Bali's ongoing tension between luxury and spirituality is evident here: it's home to the island's most exclusive cuisine and best vegan food. Between temples, yoga, art classes, rice paddy walks and bike rides, Ubud is a great place to unwind, with some spectacular (and some expensive) retreats high above the canyons north of town.
Seminyak
Seminyak is halfway between Kuta (very popular with Australians) and Canggu (Southeast Asia's answer to Tulum) on Bali's west coast. The beach offers thermonuclear Indian Ocean sunsets and some of the gentlest surf on the island for beginners. Independent fashion boutiques and design stores provide excellent window shopping, while the food court (Petitenget) has world-class restaurants.
read more Asia travel:
Uluwatu
Fast-growing Uluwatu sprawls along the cliffs of southern Bali's Bukit peninsula, centered on the cliff-top temple that bears its name and the epic waves that break beneath it. Work out your knees and walk hundreds of steps down a macaque-infested forest to a secluded beach – or opt for the more relaxed option, taking the cable car to a luxurious beach club.At sunset, the temple holds a traditional Kecak Dance performance.
Sanur
Popular with retirees, this east coast beach area, unrelentingly known as Snore, is the smartest choice for parents with young children in Bali due to its flat, still waters and rural pace of life. Stand-up paddle boarding, kayaking, yoga and biking along the beautiful coastal trails all draw here.
amed
Lounging along the gentle coast, with steep hills fringing volcanic sandy bays, Amed's main attractions are underwater. It's best known for the USAT Liberty wreck, but snorkelers, freedivers and scuba enthusiasts will find everything from artificial reefs to striking coral walls. It's also an easy drive from here to two of East Bali's star attractions: Tirta Gangga Water Palace and Lempuyang Temple (famous for its "Gateway to Heaven", which surrounds the sacred Mount Agung).
Best Under-the-Radar Destinations
penida i.
The largest of the three islands off Bali's east coast is popular for day trippers, but it's actually worth staying a few extra days. Hike the rugged cliffs down to a perfect crescent of sand, dive with manta rays and even sunfish, dive from a barely visible hole to a giant cave temple, or just relax at Crystal Cove or Peder.
Bedugul
An open fire in the tropics? Yes! In Bedugul, in the heart of Bali's central highlands, it's cool and rainy, and vendors sell local strawberries by the roadside. A huge botanical garden extends into a lake which reflects the beautiful temple of Danuberatan. It's a popular stop for day-trippers, but worth at least an overnight stay.
Menjangan
With grazing deer and surprisingly temperate forests, this island is nestled within the West Bali National Park and offers stunning views across the narrow strait to the line of the Java volcano. It is not possible to spend the night in Menjanga, but a boat trip is a must as it is probably the best snorkeling spot in Bali. A handful of hotels allow you to stay in the park and rattle down forest trails in a converted safari vehicle.
supporting role
With rice terraces forming a natural amphitheater to showcase Mount Agung, Sidemen feels like a time-forgotten Bali, the perfect place to hike, walk through the rice fields, or immerse yourself in a good book. Tirta Gangga, the former royal palace, is an easy day trip, while the local Arak – a traditional liquor made from fermented rice – is the best liquor in Bali.
Balian
In the wild north of Canggu-Seminyak-Kuta on Bali's west coast, Balian offers two Balinese icons – surfing and yoga – on a ruggedly beautiful volcanic beach, nestled in a tranquil estuary. Cows still graze in quiet backstreet guesthouses and hotels, and the pace of life has returned to a more benign era.
best thing to do
Climbing Mount Batur
Bali's third tallest volcano, with its smoldering caldera and frozen lava flows, is the island's signature hike. The sunrise views from the crater rim are more rewarding than starting in the early hours; on a good day you can see neighboring Lombok's Mount Rinjani. Poaching eggs in the geothermally heated soil is fun for breakfast, while the hot springs are the perfect antidote to tired muscles.
dive free wreck
Indonesia is one of the top diving destinations in the world. If breathing underwater is your thing, Bali's coral reefs and warm waters are a great place to try it. The USAT Liberty, a transport ship from World War II, is one of the few wrecks shallow enough for beginners. There's nothing like watching a turtle swim through the porthole of a sunken ship.
Visit Ubud Writers and Readers Festival
Every October, Ubud hosts Southeast Asia's premier literary festival, the Ubud Writers and Readers Festival, bringing local and international fiction and non-fiction talent to the stage and hosting a series of special events.Speakers include Irvine Welsh, Yotam Ottolenghi, and Eka Kurniawan, among others, whose book Tiger is the first Indonesian novel to be nominated for the Booker Prize.
wander around
Bali's infrastructure can present difficulties. There is a lack of public transport, roads can be congested, and boat safety varies widely. Ride-sharing apps like Gojek and Grab (but not Uber) have filled some of the gaps, offering two- and four-wheel taxis on demand. Hiring a private driver for a day or even an entire vacation can be cost-effective. Companies such as Perama operate tourist shuttles between popular destinations. Driving with a UK license is only possible if you have an International Driving Permit (IDP) in Jakarta, Indonesia's capital, 1,200 kilometers from Bali. Riding a motorcycle without the correct bike power permit and Indonesian IDP will void your travel insurance.
how to get there
There is no sustainable way to get from the UK to Bali. The least scary route is Turkish Airlines to Denpasar with just one stop in Istanbul. Taking a few weeks or even months to make Bali a stop on a long-distance overland trip through Indonesia or Southeast Asia spreads emissions over a longer period and often yields more economic benefits for the locals.
money saving tips
eat like a local Street vendors, you will easily find small cafes and shops.a feast Pork Roll (Bali's signature suckling pig dish) comes with rice, soup, vegetables and all side dishes for about 25,000 rupiah (£1.50), while a plate of rice with five or so delicious vegetarian toppings costs about 15,000 rupiah (less than £1).Fried Yong Tau Foo, Spicy salad Fruit salad or banana fritters cost pennies from the cart.
common problem
Why doesn't my mobile phone work in Bali?
The Indonesian government has banned your phone from accessing data on any SIM, including your UK SIM, because you used an Indonesian SIM in a foreign phone and didn't register your IMEI code on arrival at the airport. All GraPARI outlets can help you with this, as can many businesses that sell SIM cards to tourists; meanwhile, you rely on Wi-Fi.
What's the weather like in Bali?
Bali has a tropical climate with roughly two seasons, wet (usually October to April) and dry (usually May to September); both are hot and humid.
What time zone is Bali in?
Bali is GMT+8. Note that Indonesia has three time zones, with neighboring Java (including the capital Jakarta) at GMT+7.
What currency do I need in Bali?
Bali uses Indonesian Rupiah (IDR). ATMs are plentiful, but island-wide power outages are notorious, so keep some cash on hand for emergencies. Credit cards are more widely accepted than ever, but for most small purchases, cash still comes first.
What language is spoken in Bali?
The national language of Indonesia is Bahasa Indonesia. Bali also has its own language, Balinese, which is not related to Indonesian; it is traditionally written in a completely different script.
read more best hotels in bali