Japan
ASUS released "ROG Ally" in June-5 years of conception, "a dream machine that can play all games" Japanese headlines
ASUS JAPAN announced on May 29 that it will release the portable game console "ROG Ally" in June.
There are two types to choose from: one with an "AMD Ryzen Z1 Extreme" processor and the other with a "Ryzen Z1" processor. The suggested retail price of the model equipped with Z1 Extreme is 109,800 yen (all tax-included prices). The model equipped with Z1 is priced at 89,800 yen, and it is expected to start booking and sales after summer.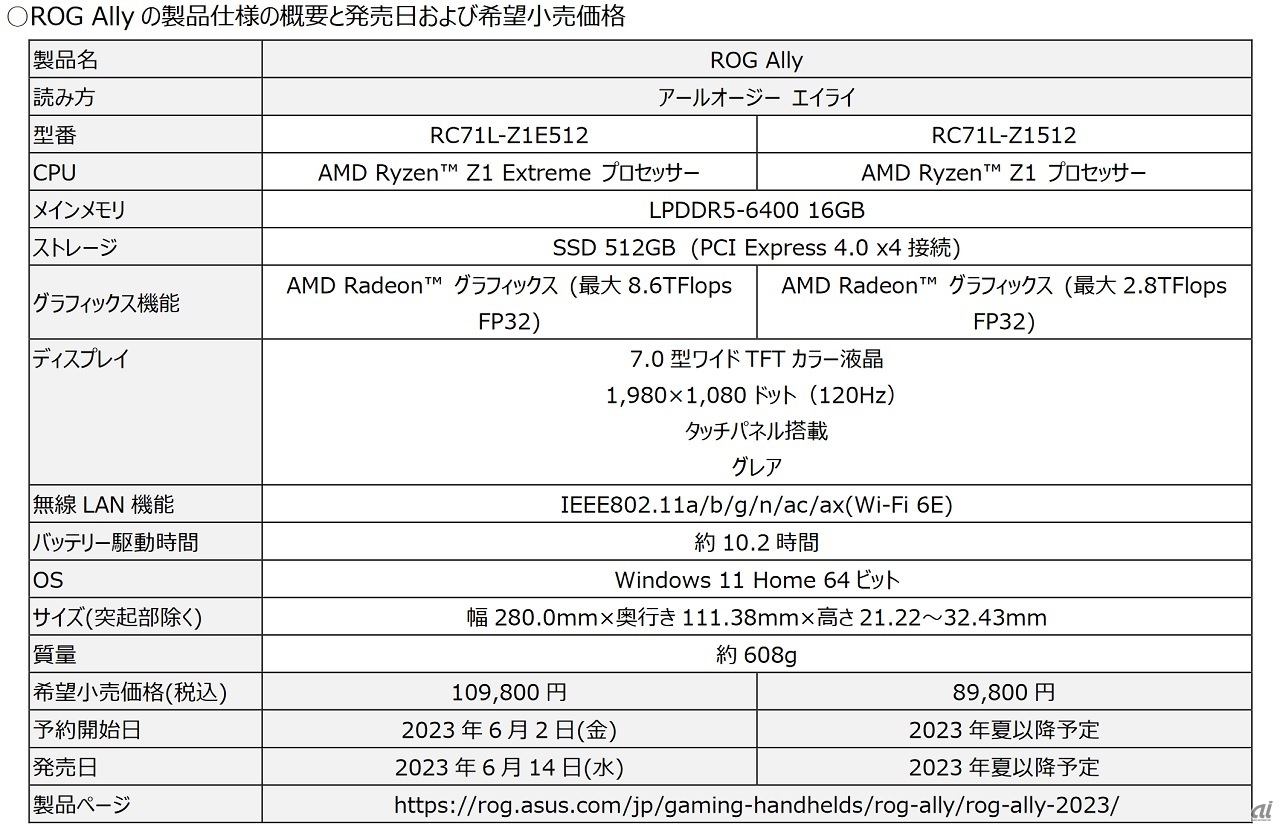 Overview of product specifications, etc.
5 years of conception – "dream machine that can play all games"
Keigo Seguchi, ROG Specialist, ASUS JAPAN System Business Group Marketing Department, said, "In answering the question of whether it is a PC, a console (here referring to gaming devices such as 'Nintendo Switch' or 'PlayStation') or a mobile device, 'No, It's everything."A dream machine that can play all games.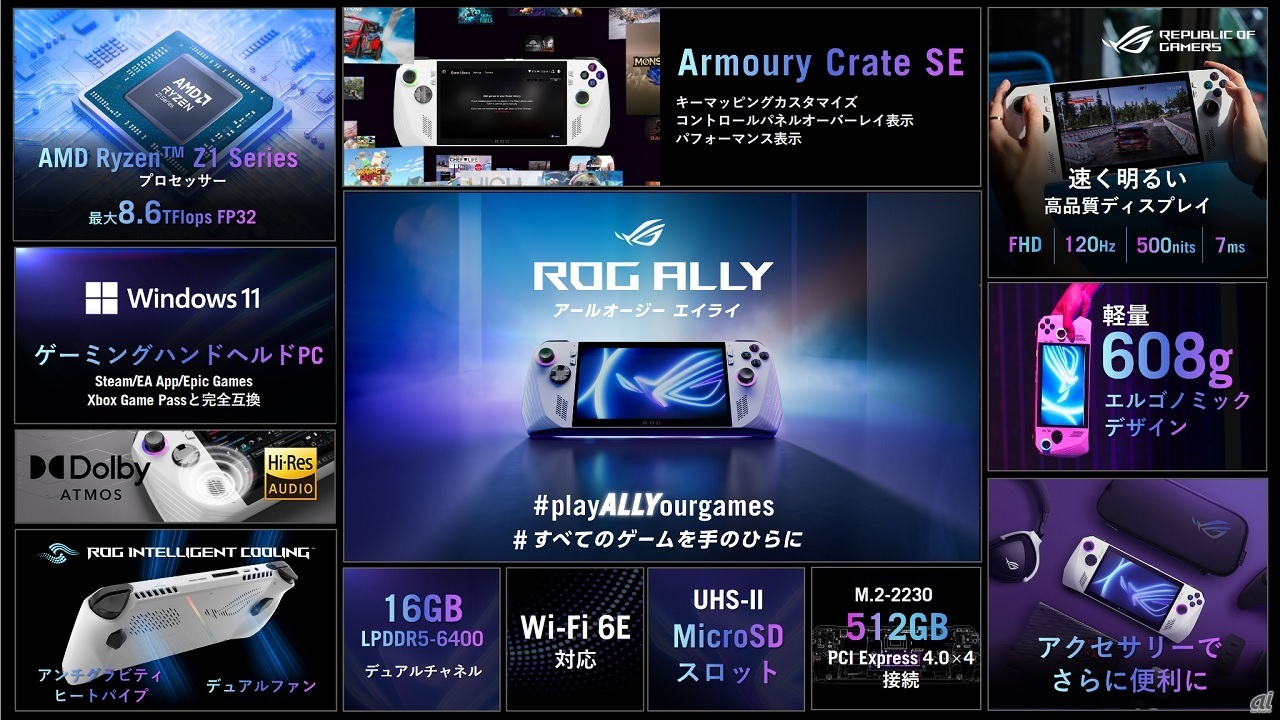 ROG Ally overview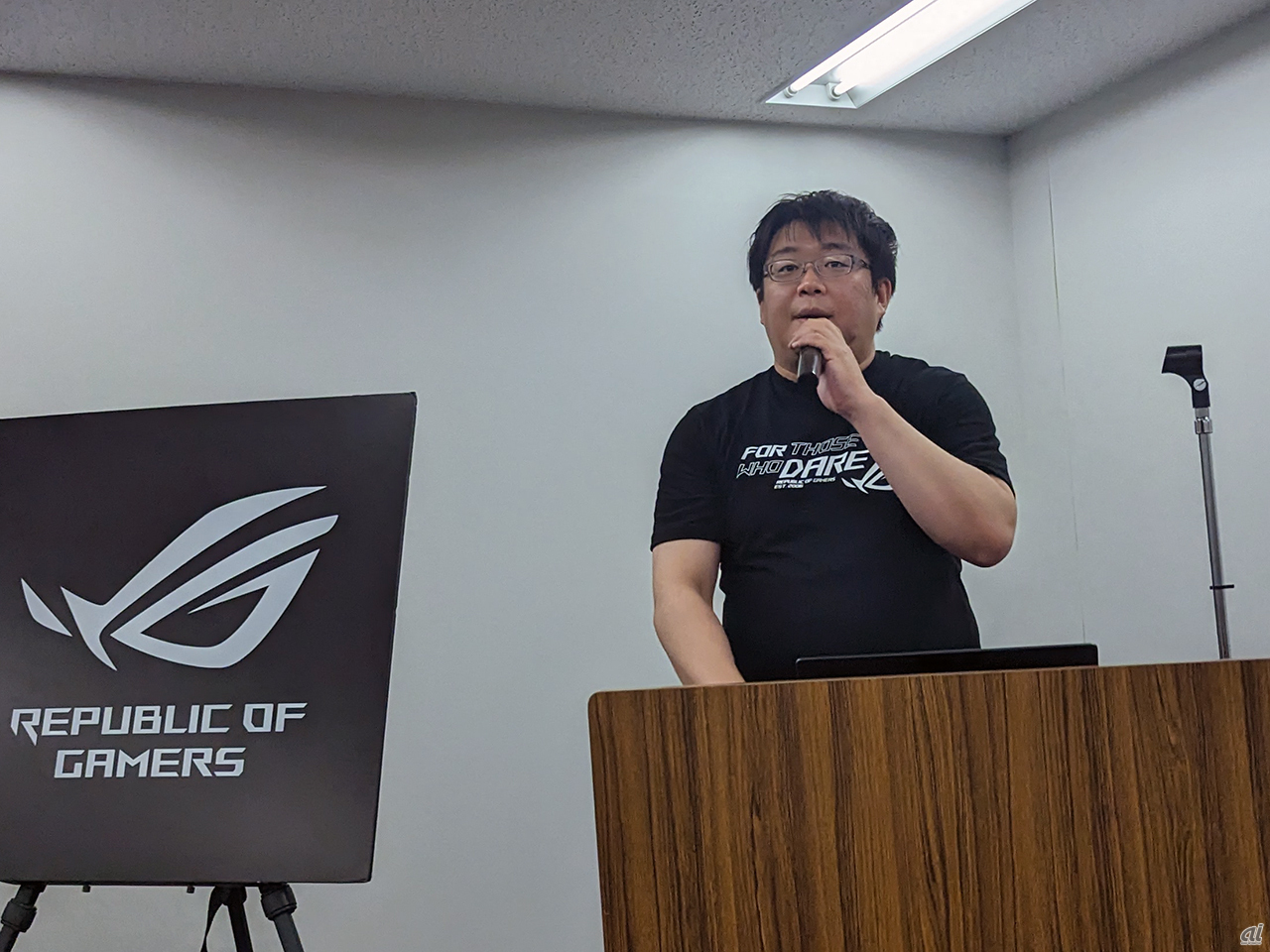 Keigo Seguchi, ROG Specialist, Marketing Department, System Division, ASUS Japan
The Ally's body measures 21.22 to 32.43 mm high x 280 mm wide x 111.38 mm deep, with a depth of 40.58 mm from the tip of the shaft and weighs approximately 608 grams. It is a 7.0-inch widescreen TFT color LCD with a refresh rate of 120 Hz, a display resolution of full HD (1980×1080), and a maximum brightness of 500 nits. The operating system is equipped with "Windows 11 Home 64-bit".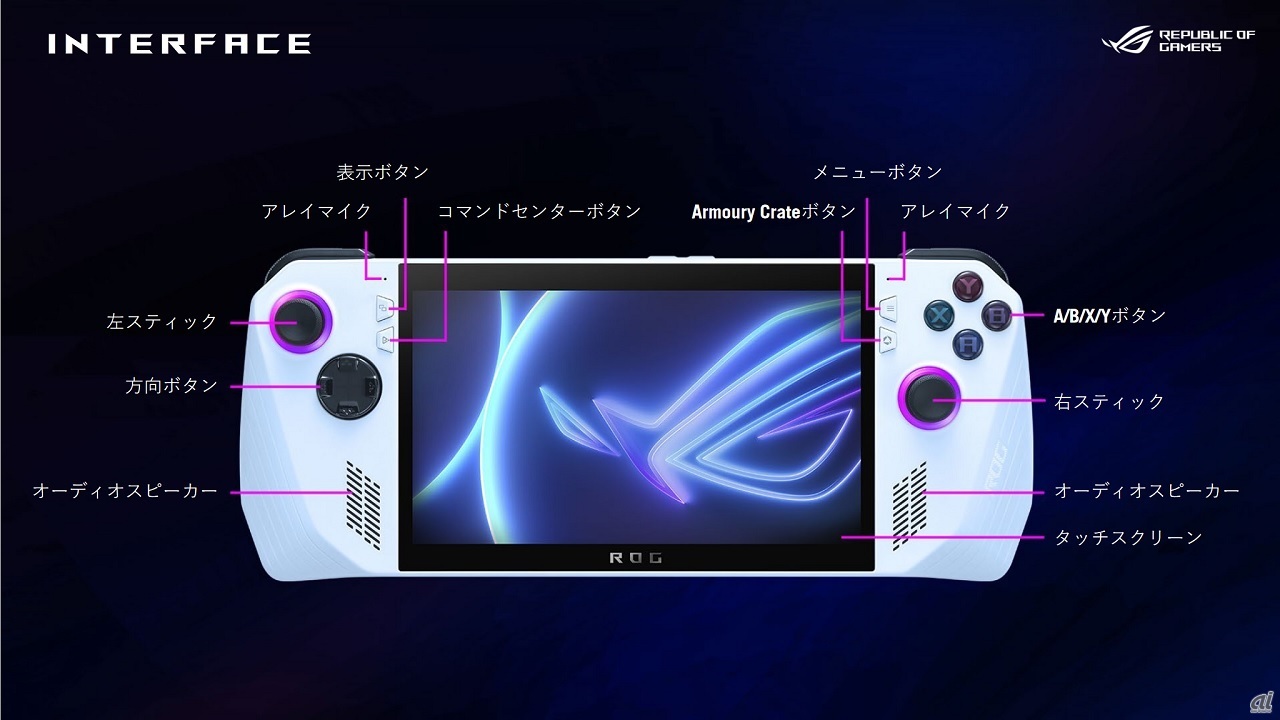 from the front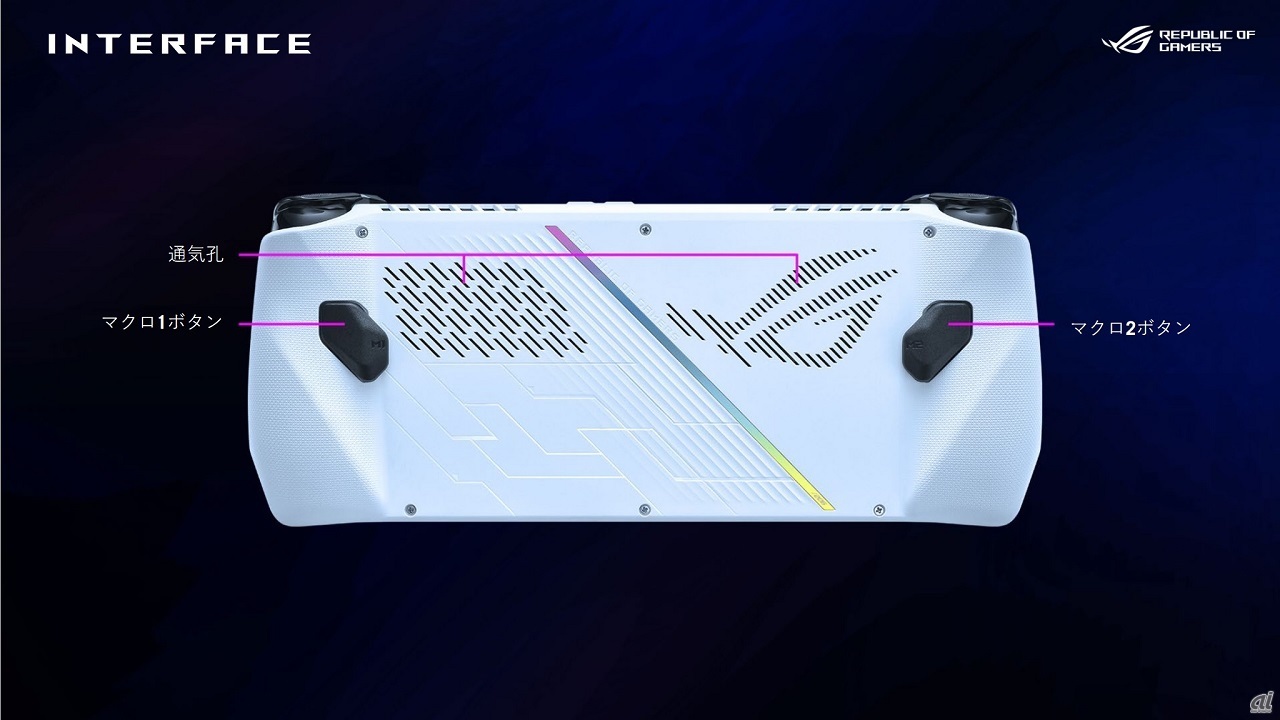 from behind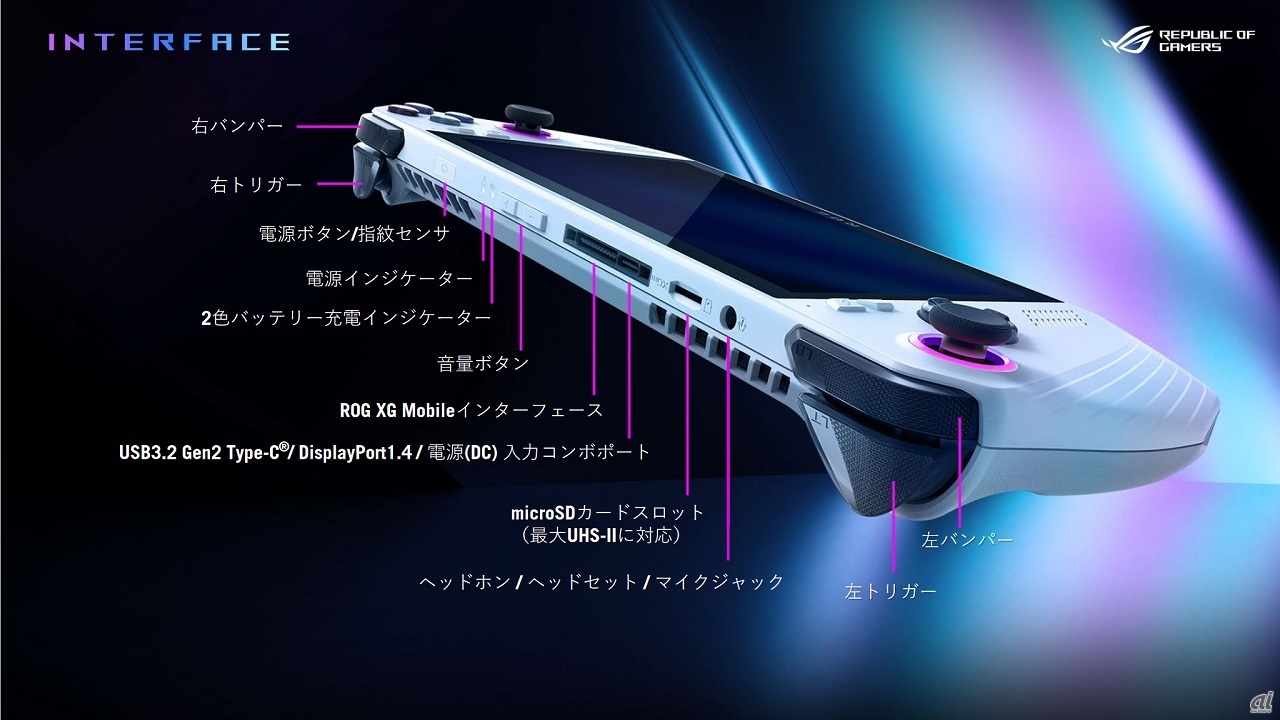 seen from above
"The idea of ​​Ally started five years ago, and it took trial and error not only in terms of specifications, but also in terms of design," said Mr. Seguchi, explaining that it would be a smartphone that pursued a suit that fits hands regardless of race or gender. the design of.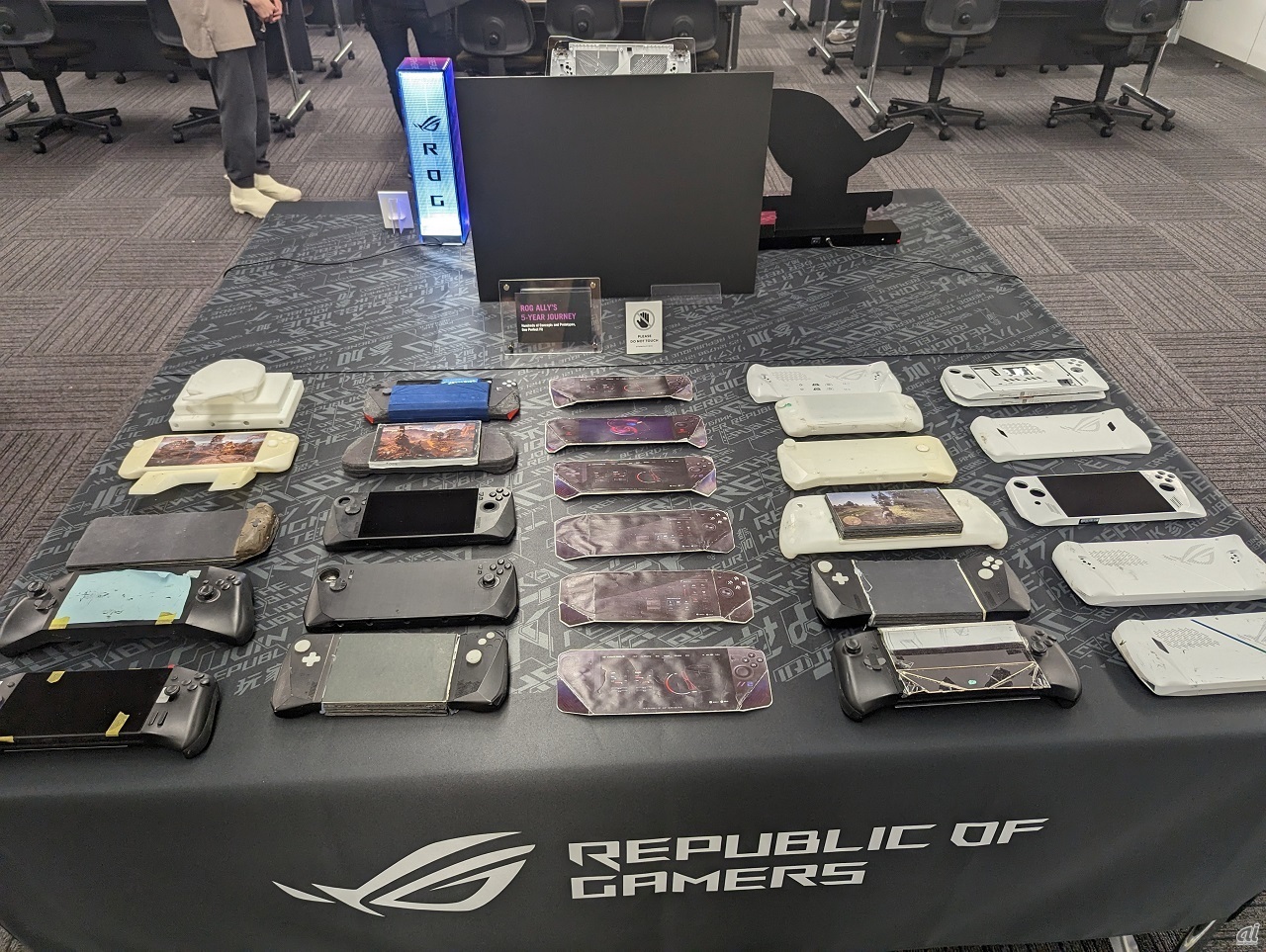 part of the prototype
Compatible with PC game platforms such as "Xbox Games Pass", "Steam", "Epic Games" and "GOG", you can enjoy various PC games. Also, you can play smartphone games using Amazon's "Android App Store" and "Windows Subsystem for Android (WSA)". Of course, because it is equipped with Windows 11, you can use software other than games in the form of a tablet.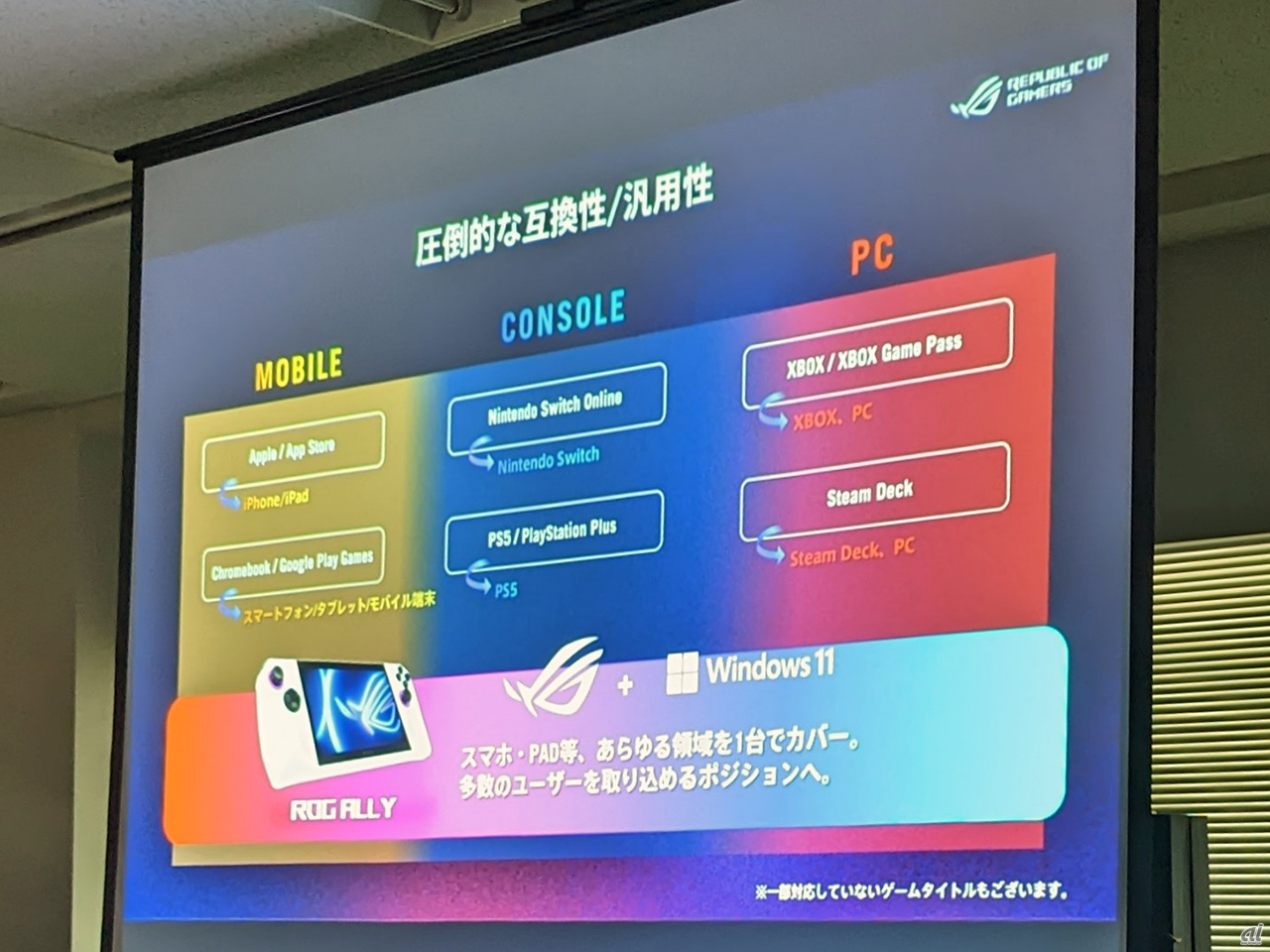 enjoy various games
In addition, the management software "ASUS Armory Crate SE" for products of the company's gaming brand "ROG (Republic of Gamers)" is pre-installed. It can display a list of games from multiple gaming platforms, and can be easily launched and operated by touch or controller.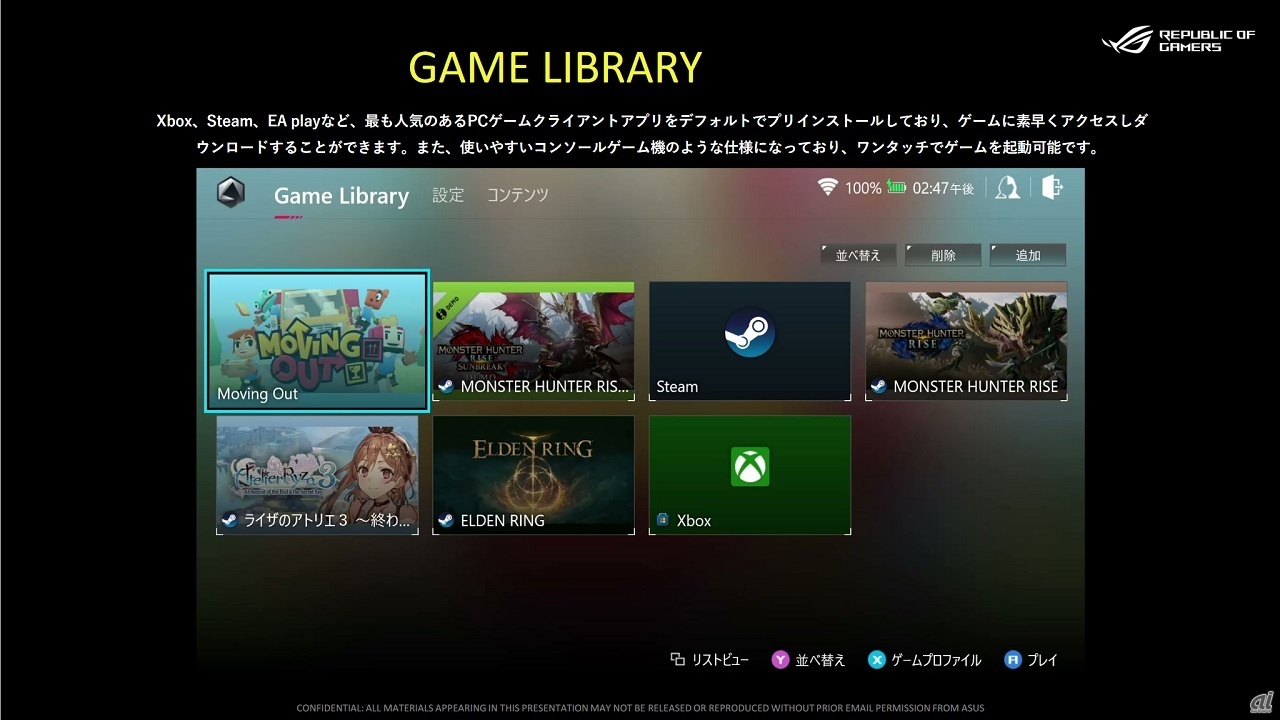 Can list games from different platforms
Additionally, the Command Center button sits above the D-pad and next to the left stick. It can be activated even while gaming, and various settings can be changed with the push of a button.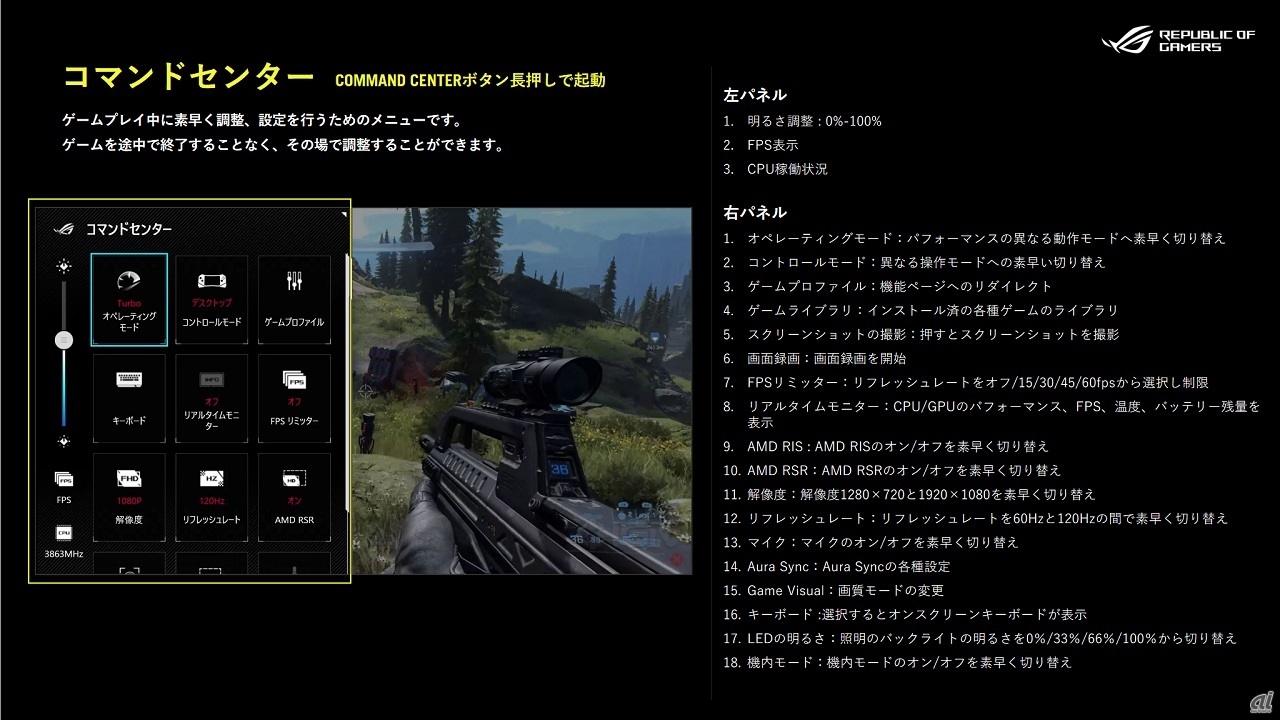 Command Center can be opened while playing a game
The USB interface is "USB3.2 Gen1 (Type-C)", and the standard battery life is about 10.2 hours. It is said that heavy games can run for up to 2 hours and casual games can run for 6.8 hours. It also supports 65W fast charging using USB PD (USB Power Delivery). Charges to 50% in about 30 minutes.
"microSDXC/microSDHC/microSD" can be used for the memory card. In addition to enjoying the virtual surround sound supported by "Dolby Atmos", the audio output of the audio jack also supports high-resolution audio. In addition, fingerprint authentication using Bluetooth and "Windows Hello", multi-person use, account switching, etc. are also possible.
3 special accessories are also on sale – events will be held in Japan
As Ally's exclusive accessory, the dedicated suitcase "ROG Ally Travel Case" will be released on June 14. The suggested retail price is 3980 yen.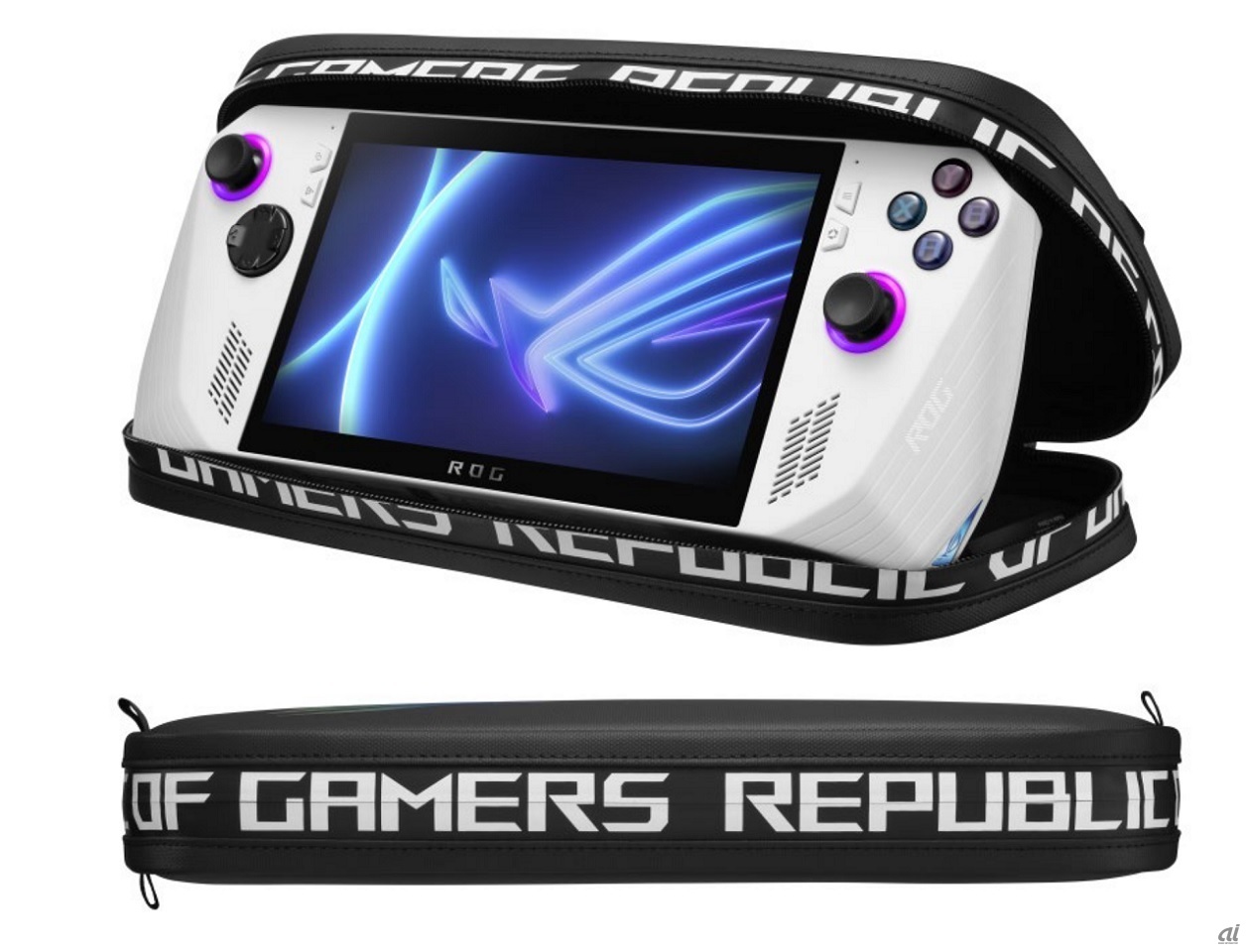 Ally body and "ROG Ally Travel Case"
In addition, the "ROG Gaming Charger Dock" as an adapter base is scheduled to be released in summer with a suggested retail price of 9,980 yen. Equipped with 1 HDMI interface, 1 USB Type-C, 1 Type-A interface, supports fast charging, and outputs the screen while charging.
You can use the HDMI cable to output the screen, and enjoy the game on a large-screen TV like a fixed game console, or you can prepare a Bluetooth connection controller to play with multiple people. Each USB port can also charge devices other than the Ally.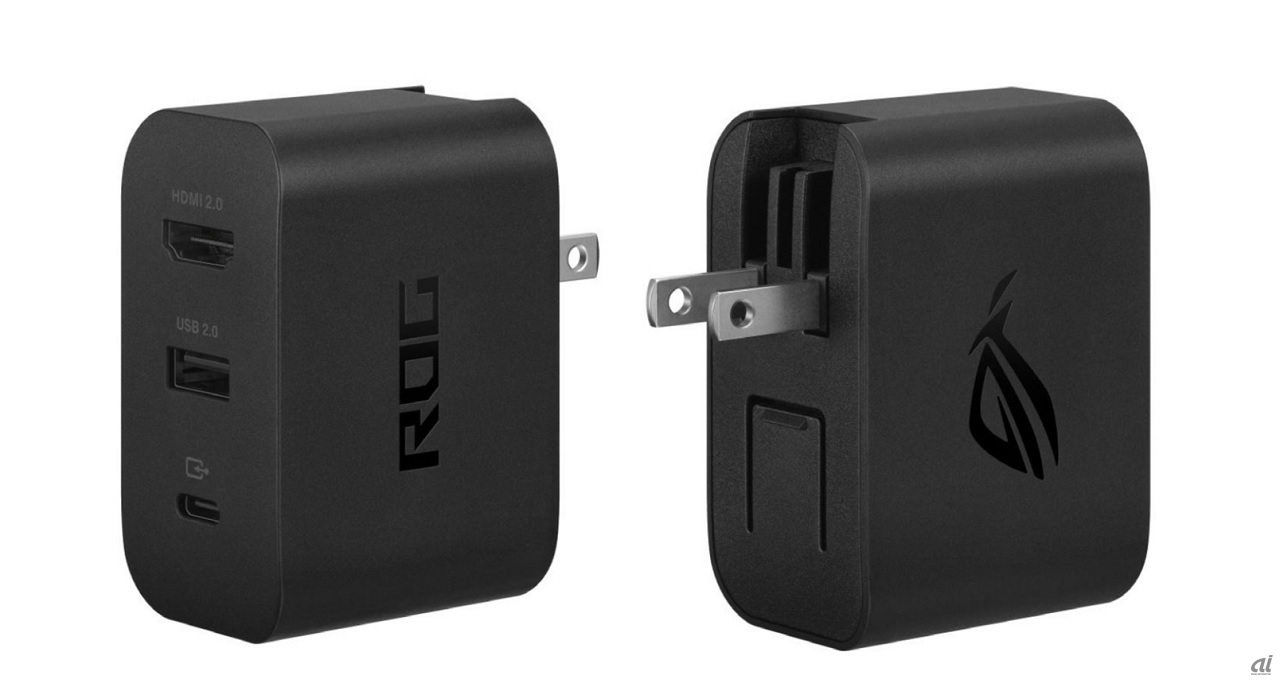 "ROG Game Charger Dock"
In addition to the controller "ROG RAIKIRI", we plan to develop a total of three types of exclusive accessories in Japan.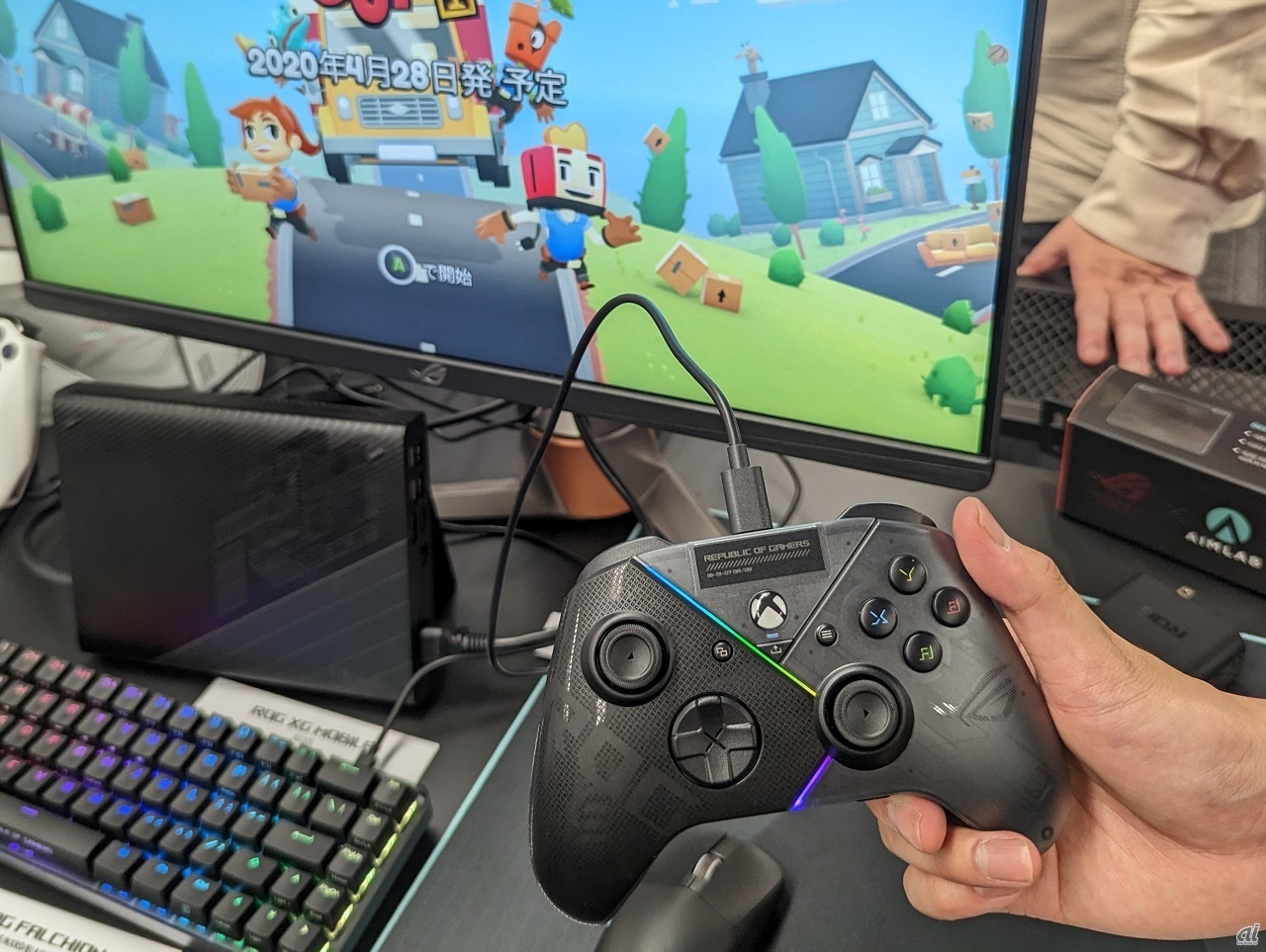 "ROG RAIKIRI" will be released soon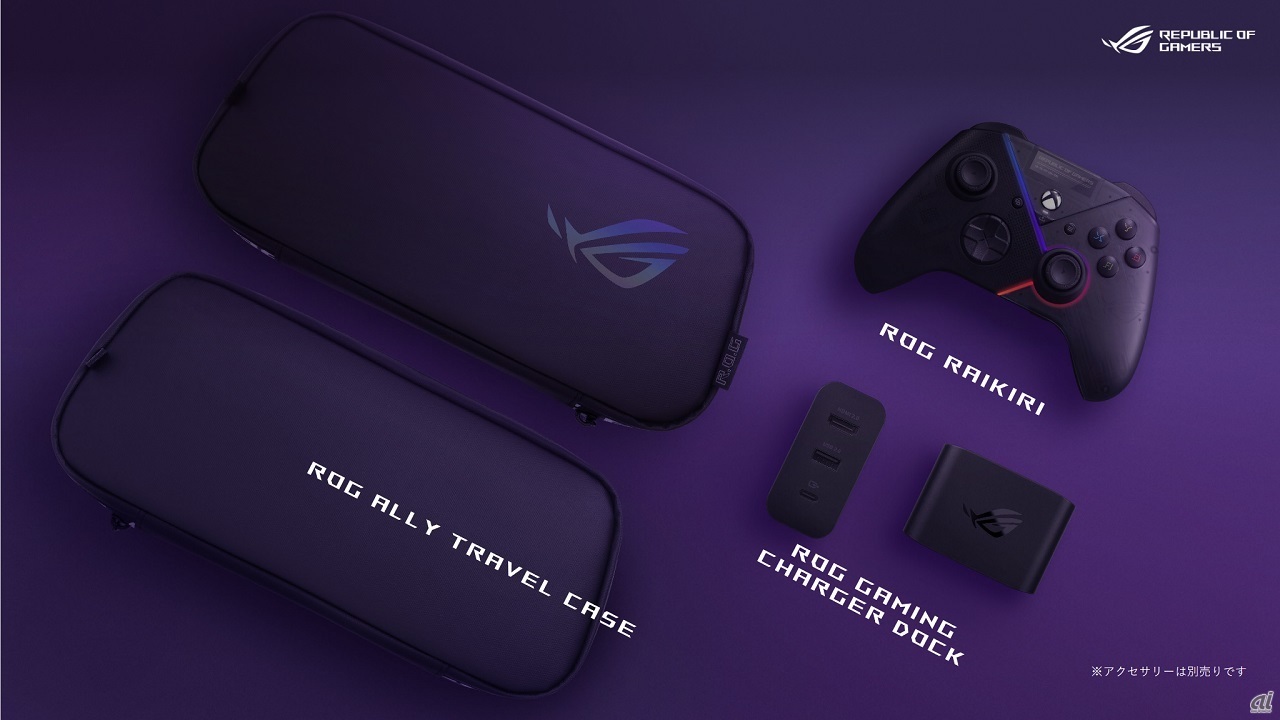 3 special accessories
It is also possible to use the external GPU device "ROG XG Mobile" developed for the gaming PC "ROG Flow" series. It can be connected to Ally and used as a high-spec desktop gaming PC.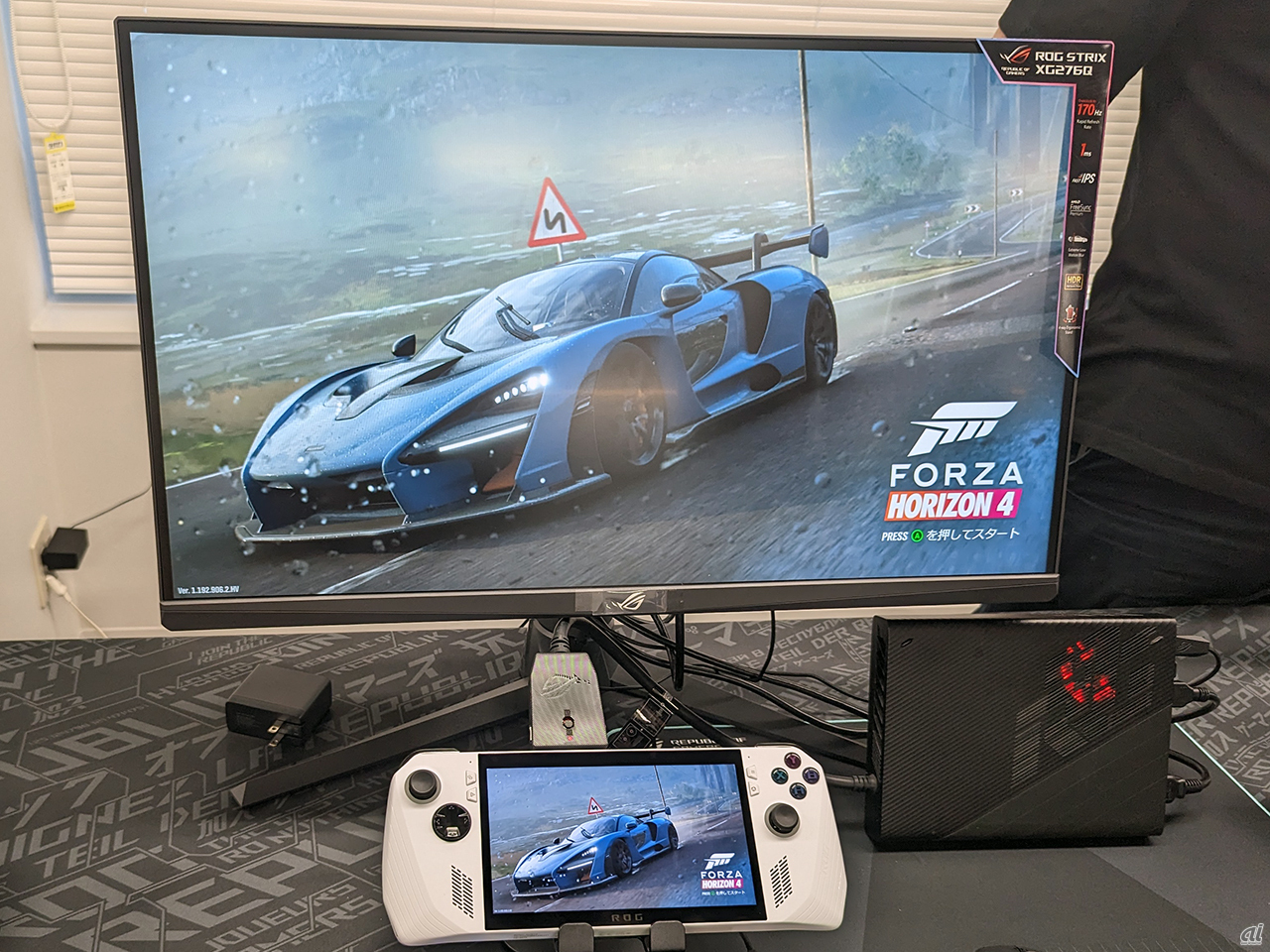 Display on external monitor with ROG XG Mobile
We'll also be running campaigns based on Ally's launch in Japan. Everyone who buys an Ally and posts impressions of it on a review site will receive an Ally Travel Case. In addition, AMD Ryzen Z1 Extreme models can also apply for the "ASUS Store Limited 30-Day Return Guarantee Campaign".