Taiwan
(Abstract) Before the 2019 new crown epidemic. What is the purpose, length of stay, and cost of Taiwanese visitors to Japan? | Visit the laboratory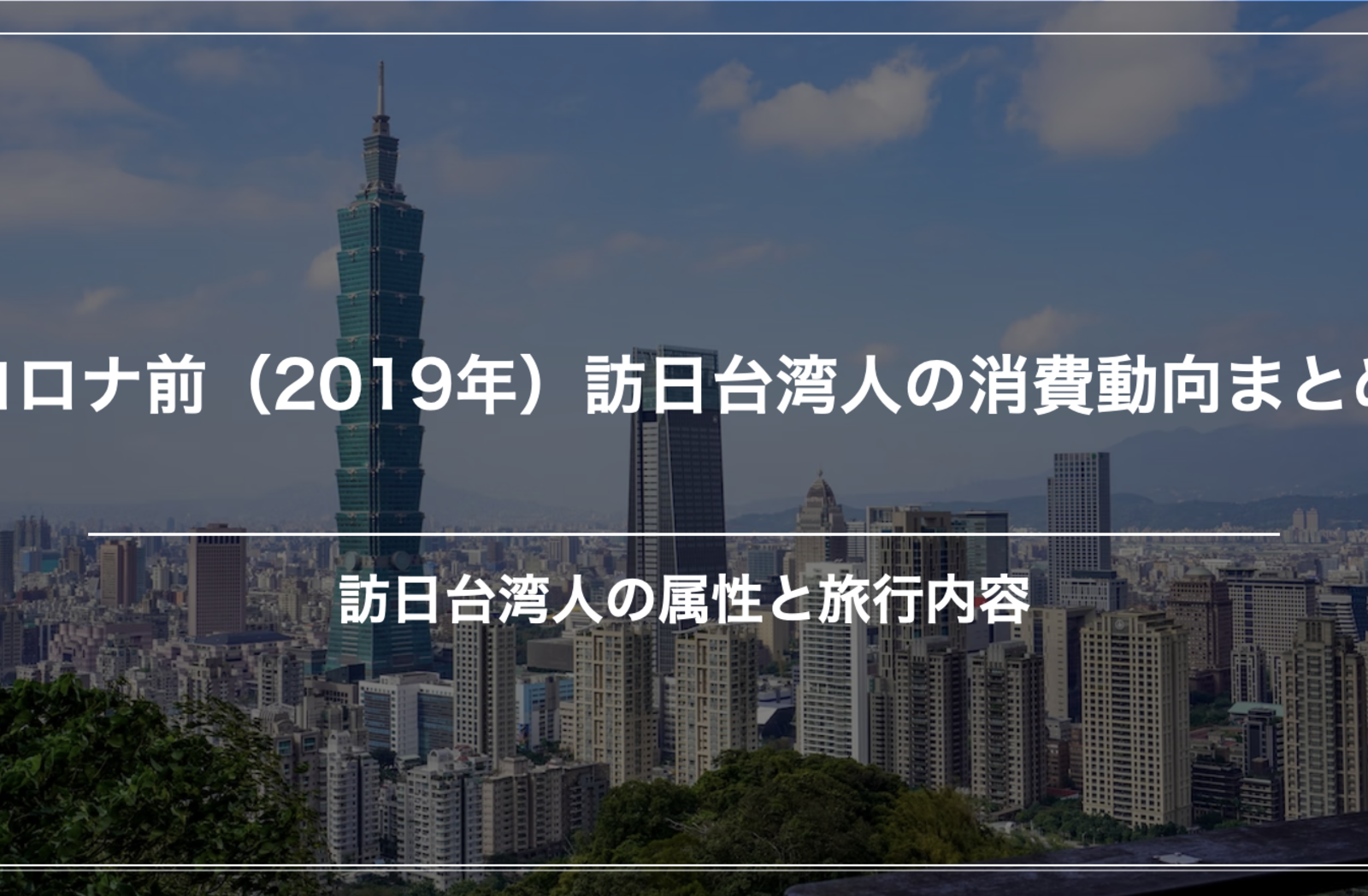 Due to the spread of the novel coronavirus infection, the number of foreign tourists visiting Japan has decreased significantly, but inbound arrivals are expected to recover, such as the drastic relaxation of border measures in October 2022.
In promoting entry measures, in order to improve the accuracy of initial targeting, it is necessary to understand the "pre-epidemic" consumption trends in various countries/regions.
As a pro-Japanese country, Taiwan is very popular for tourism to Japan, and it is an important market for inbound strategy.
The "Word-of-mouth Academy" operated by mov Co., Ltd. provides free materials entitled "Consumption Trends of Taiwanese Tourists to Japan Before the New Crown Epidemic (2019)".
Please take advantage of this opportunity.
Download the report (free)
19,000 people have signed up!Sign up for the email magazine to learn more about inbound
Organization of this document
This document consists of the following contents.
Consumption trends of Taiwanese tourists to Japan in 2019 (attributes and travel details of Taiwanese tourists to Japan)
introduce

Gender and age ratio of Taiwan tourists visiting Japan

Main purpose of Taiwan tourists visiting Japan

Number of Taiwanese visiting Japan

Time of stay of Taiwan tourists in Japan by purpose

Main tourist seasons for Taiwanese tourists to Japan


Travel Patterns of Taiwan Tourists to Japan

Breakdown of Travel Expenditures by Taiwan Tourists Visiting Japan

Breakdown of Travel Expenditures by Taiwan Tourists Visiting Japan

Taiwan Tourists' Shopping Rankings in Japan

Ranking of Travel Information for Taiwan Tourists to Japan

In summary
The following are just some of the insights that can be gleaned from this document.
Download the report (free)
The per capita consumption of Taiwanese tourists to Japan is lower than that of the previous year and the proportion of each nationality
In 2019, the per capita travel expenditure of ordinary Taiwanese tourists to Japan was 118,288 yen, which was lower than the 159,000 yen daily travel expenditure of all foreign tourists to Japan.
The average length of stay of Taiwanese tourists in Japan is 6.1 nights, which is lower than the overall number of 8.8 nights.
In 2016, 2017, and 2018, the per capita tourism expenditure of Taiwanese tourists to Japan increased slightly, but in 2019 it fell by 7.3% year-on-year, the lowest level in the past five years.
Download the report (free)
From spring to summer, tourists from Taiwan to Japan show an increasing trend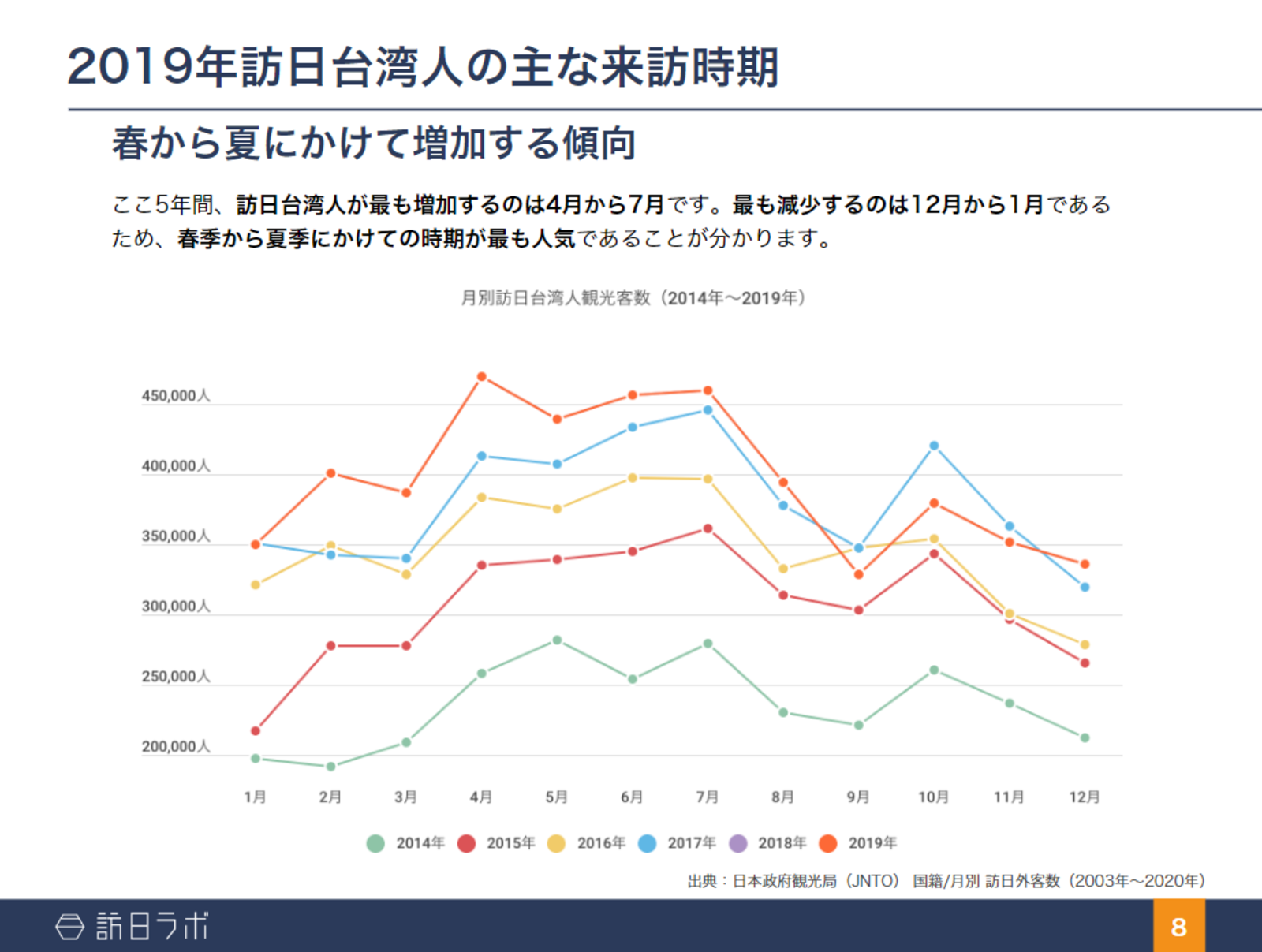 In the five years to 2019, the largest increase in Taiwan's visits to Japan was from April to July.
April 2019 is the most visited month in Taiwan.
On the other hand, it was lowest between December and January, indicating that spring and summer are the most popular for Taiwanese tourists traveling to Japan.
Download the report (free)
More than 80% of them are repeat customers, and continuous dissemination of information is very important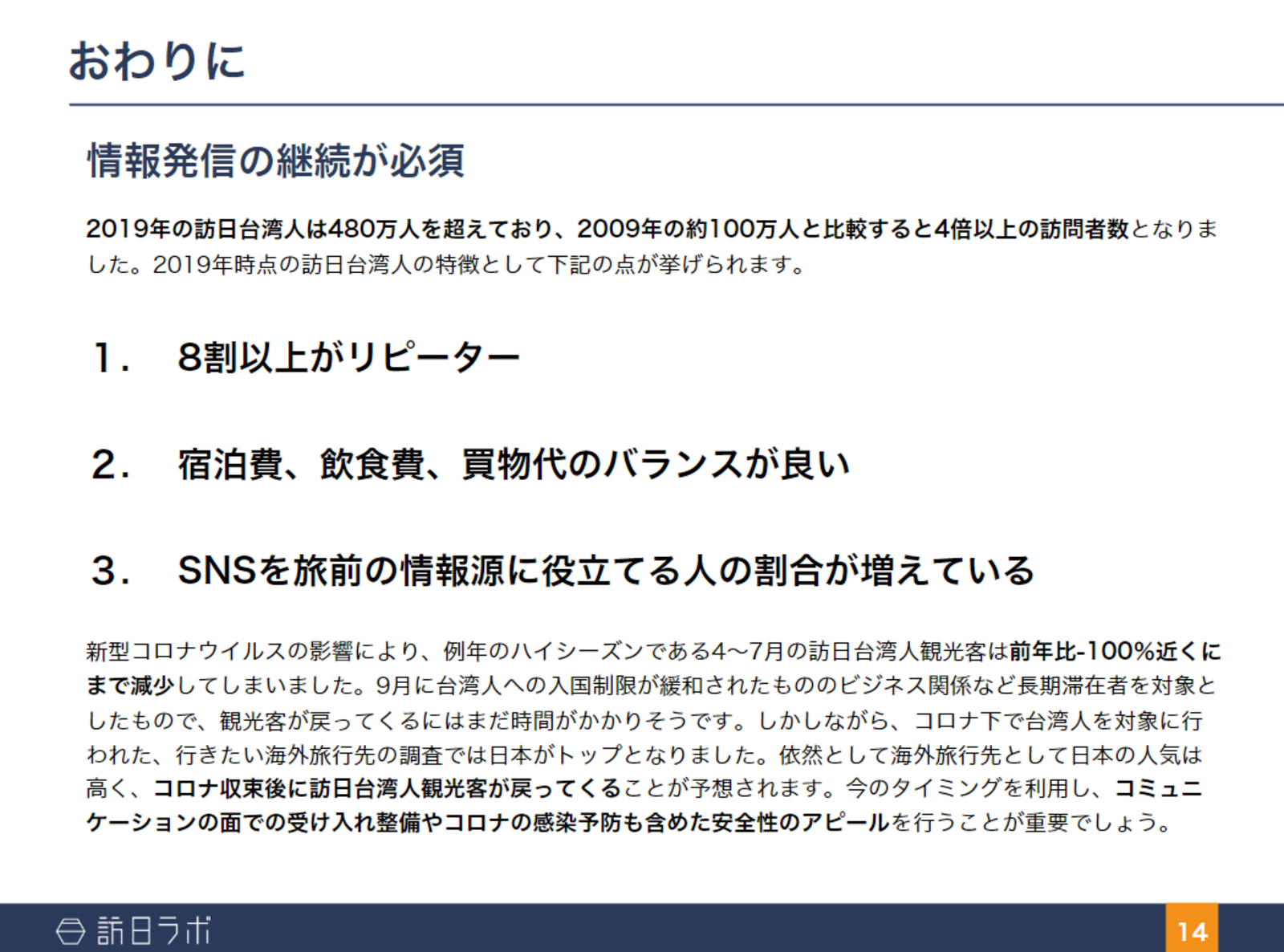 In 2019, more than 4.8 million Taiwanese visited Japan, more than four times the number of about 1 million in 2009.
As of 2019, the characteristics of Taiwanese visits to Japan are as follows.
More than 80% are repeat customers

Good balance of accommodation, food and shopping costs

The proportion of people using SNS as a source of information before travel is increasing
The most frequent visits by Taiwanese tourists to Japan are 2-5 repeat visitors, of which more than 80% are repeat visitors.
In addition, Taiwanese tourists to Japan spend almost evenly on shopping, accommodation, food and other aspects.
Following personal blogs, SNS such as Facebook, Twitter, and WeChat were considered useful sources of information before travel, suggesting that SNS information was considered important when traveling to Japan.
Taiwan remains a popular destination for overseas travel despite a sharp drop in Taiwanese tourists to Japan due to the COVID-19 pandemic.
In October 2022, border measures such as the lifting of the personal travel ban in Japan will be greatly relaxed.
Taking advantage of this moment, it is important to improve safety, including preparing for acceptance in terms of communication and prevention of novel coronavirus infection.
Download the report (free)
Fully understand the entry measures!Presentation of latest reports and seminars

On Visit Japan Lab, we publish the latest reports and conduct workshops to support store managers who have issues with entry measures to address their concerns and questions.
A must see for new entry managers! From basic information to the latest data, a comprehensive understanding of "entry measures" 【Visit Japanese laboratory supervision】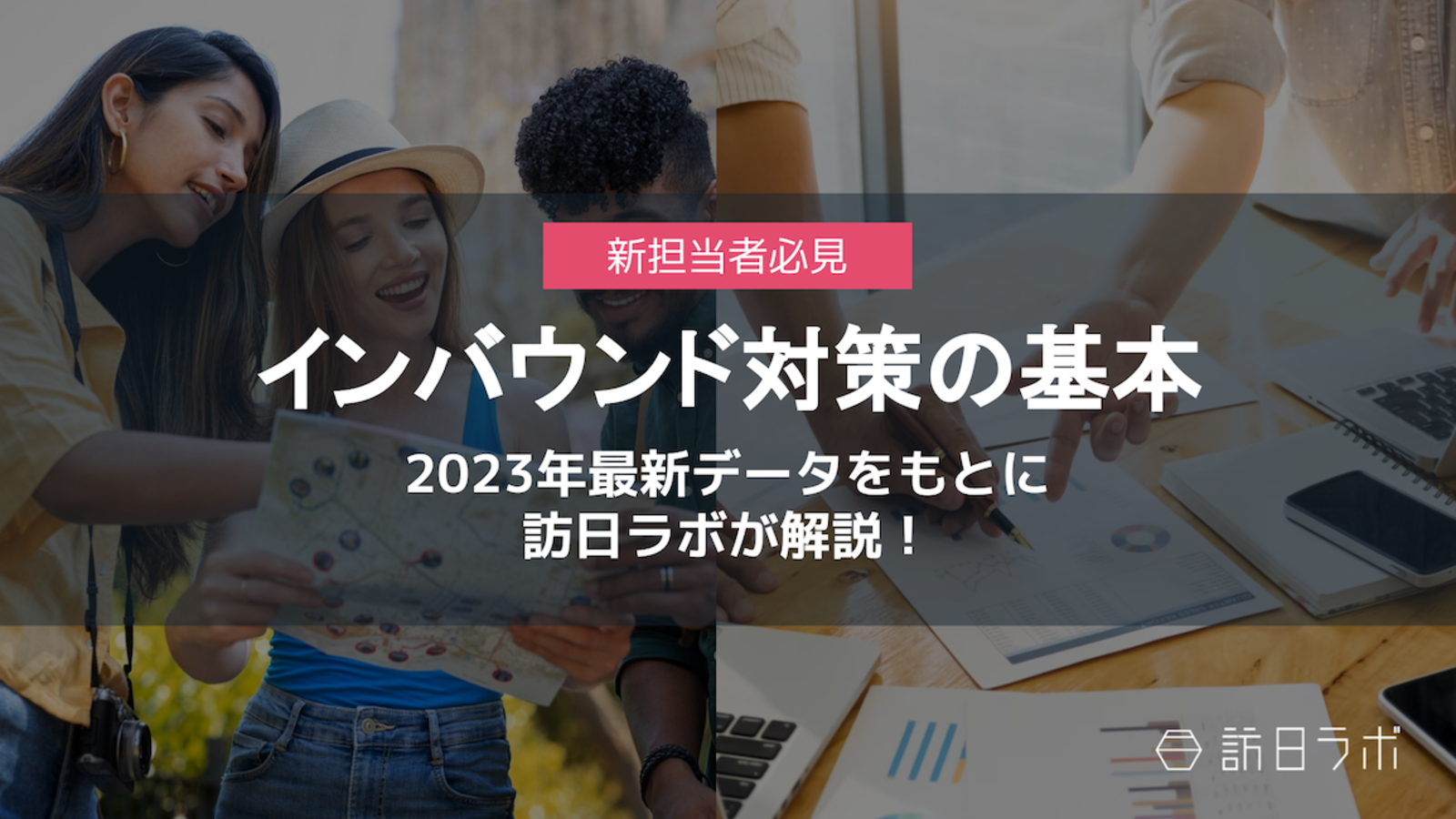 On May 8, 2023, the new crown virus was finally transferred to category 5, and entry is expected to resume seriously. However, there are also many people who are distressed, "Where should I start with the entry measures?"
Therefore, mov Co., Ltd., which is responsible for the visit of the Japanese laboratory, produced a report summarizing the "basis of entry measures" and showing the "first step" of entry measures. After reading this report, you have mastered the entry knowledge you should know!
View more information about materials
It's time to relearn the basics of inbound! "Inbound Textbook" that can only be read here

"Review Academy", an online school "Review Academy" that is completely free to study anytime, anywhere, on the way to work or during test preparation, through the optimization of smartphones, we released the "Inbound Textbook" laboratory written by visiting Japan.
In "Inbound Teaching Materials", we have prepared data classified by country and prefecture, as well as enrichment lessons that allow you to relearn the basics of immigration! In addition, there are a large number of highly reliable and practical content supervised by experts, such as the thorough explanation of "Dianping", China's largest word-of-mouth website, which is indispensable in immigration measures, and how to use "Google Maps" to attract customers. ", has attracted much attention in recent years!
【Free】Take a look at "Inbound Textbook"