South Korea
A joint project with Sony Music Korea BS Yoshimoto "Can we debut?" #14 OA on the 20th today!Korean dance class samurai training demonstration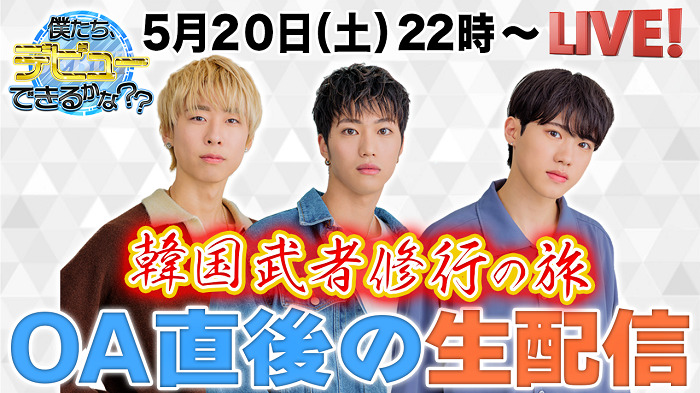 BS Yoshimoto's documentary program "Can we debut??" #14 will air on Saturday, May 20th, a joint project with Sony Music Korea, consisting of 6 members including Koki Sakamoto of Nippon 2.
"Can we debut??" A project initiated by 6 members including Nippon 2 Koki Sakamoto
Participate in PRODUCE 101 JAPAN SEASON2,Yuki Sakamoto.
TORA PROJECT 1st class member, Sony Music Entertainment's global artist discovery and training programAkira Kawaguchi,Rough Kelly3 Japanese members.
Yuki Sakamoto ranked 35th in the first PRODUCE 101 JAPAN SEASON2

"PRODUCE 101 JAPAN SEASON2" ranks up to 60th for the first time! From the 14th, "Collected PRODUCE 101 JAPAN SEASON 2 Close 150 days Countdown to debut" will start broadcasting
Those who passed the Sony Music Korea audition,Gao Haojun,Jin Minrui,Lee Tae WooWith the addition of three Korean members, the project "Can we debut??"
However, due to a visa from Japan, he still cannot perform activities as a complete group. . .
This time, the details of the samurai training in dance lessons that were intensively conducted in Korea for two weeks were revealed.
I want to note that the Korean members have dance lessons with the Japanese members.
In this show, MC Glover and Yushin support the members of the studio in their efforts to debut.
#14 will air on BS Yoshimoto on Saturday, May 20th from 21:30 to 22:00.
In addition, three Japanese members will broadcast live on YouTube from 22:00 to 23:00 on May 20 (Saturday) after the broadcast.
Don't miss this opportunity to hear the inside stories of the members that can only be heard here.
BS Yoshimoto "Can we debut?" #14 broadcast information
Premiere time: Saturday, May 20, 21:30-22:00.
Simultaneous broadcast on the third Saturday of every month on BS265ch
Starring:
Glover, Yushin, Koki Sakamoto, Akira Kawaguchi, Kairu Haraseki, Go Ho-jun, Kim Min-seo, Lee Tae-woo
Online viewing destination: https://video.bsy.co.jp/
"Can we debut??" YouTube Live Schedule
Live broadcast time: May 20th, Saturday, 22:00-23:00