Singapore
6 Best Cities for Urban Cycling in Asia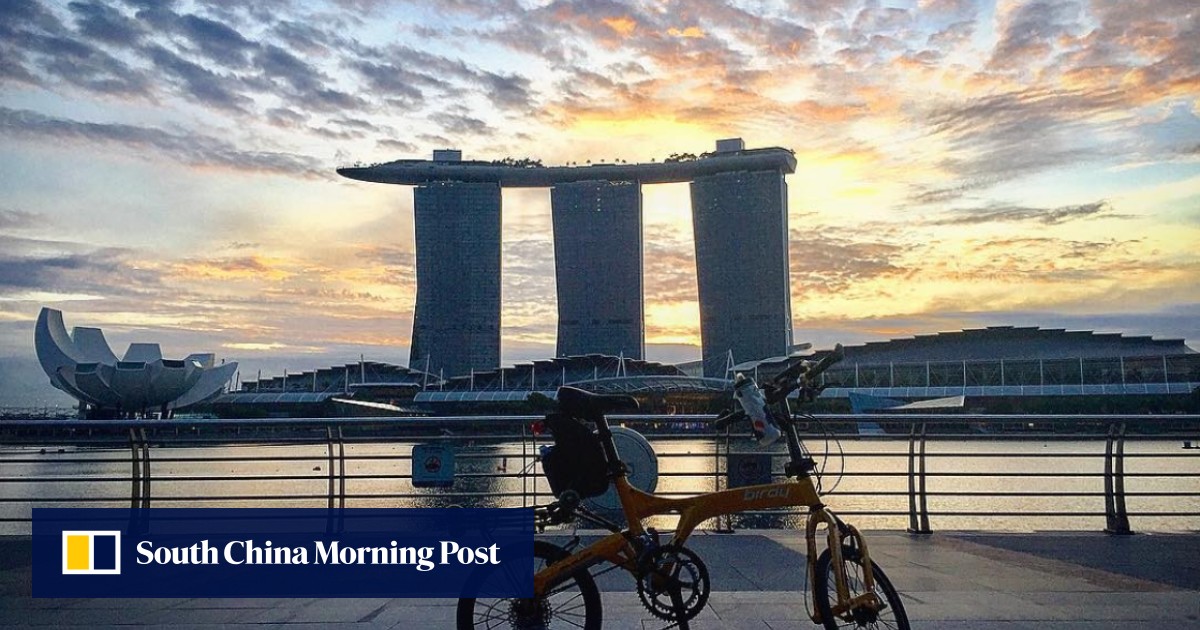 Pro tip: Don't overdose on sake and whiskey, it's illegal to ride a bicycle after drinking alcohol!
2. Xiamen
You know a city is serious about urban cycling when it builds the world's longest skyline for bicycles! In 2017, Xiamen opened a 7.8-kilometer bicycle expressway that passes through the city's three financial centers and five residential districts, five meters above ground traffic and congestion. The 11 stations between the start and end of the cycle path, Hongwen Station and Cassiopeia Station can all be reached from the sky cycle path. Huandao Road along the coastline of the island is another scenic bike route that takes you to some of Xiamen's attractions, such as Baicheng Beach, Hulishan Fort, and the Xiamen International Conference Center.
5 Mindfulness Apps to Relieve Travel Stress
Mobike, ofo, and Hellobike are the three most common unmanned bicycle companies in Xiamen. To rent, simply download the app and follow the registration process.
Eat Like a Local in Osaka – Think Gyoza Hot Dogs and Pickled Eggs
Pro tip: Keep your bike close to the bike lane entrance, or you'll have to manually push your bike up the ramp to get into the bike lane.
3. Beijing
Beijing is no stranger to urban cycling, with roads built with cyclists in mind as one of the main road users. Almost all roads in Beijing have designated bike lanes, separated from cars by guardrails. The grid plan of the city also means that navigation is very simple. Beijing also plans to build a 9-kilometre elevated cycle lane to provide a safer and less congested way of commuting in the city. Beijing is vast, with landmarks scattered throughout, so cycling is best done in specific areas rather than as a way of getting from one place to another. Spend an afternoon exploring the area around Tiananmen Square, then cycle to Wangfujing to sample local street food. There is no vehicle traffic in Nanluoguxiang Hutong, which is very suitable for those who are cycling in the city for the first time.
Mobike and Hello bikes are found all over Beijing. Just download the app, register and scan the QR code to start riding.
Pro tip: You may find some damaged or broken bikes in Beijing, so check that your bike is in good riding condition before renting it.
4. Taipei
Taipei is great for exploring by bike, as most of its landmarks and popular attractions are located in the city center. Roads can be very congested, so cycling can sometimes get you there faster than taking a taxi. The central part of the city has well-marked bike lanes and almost non-existent uphill terrain. A leisurely route for shopping and tasting local delicacies: Cycle to Yonghe Soymilk on Weishui Road for breakfast, then shop for electronics at Guanghua Digital Plaza, or play a few virtual reality games at Viveland VR. Take a break for lunch at Lin Dongfang Beef Noodles, then return the bike and end the day at Songshan Cultural and Creative Park.
Experience the Highlands aboard the Belmond Royal Scotsman
YouBike is a bicycle sharing system operated by the Taipei City Government, with stations all over the city. If you have an EasyCard (Taipei's Octopus card), you can use it with just one tap, if not, please pay by credit card at the ticket booth at the station.
Pro tip: Bicycling is banned in some tourist areas, so keep an eye out for signs.
5. Tokyo
While Tokyo often raves about its train network, cycling is also an extremely convenient way to get around the city. Many locals ride bikes, so you won't feel like you're a nuisance to pedestrians sharing the sidewalk while you're cycling. What's more, the city bikes are all in top shape and electric, so you won't break a sweat even if you hit steep terrain! The path around the Royal Palace is a popular and picturesque cycling route. The Daikanyama and Aoyama areas are filled with shops displaying the latest fashions, and the streets are unobstructed and perfect for cycling. More urban bikers can head to Tsukiji for a seafood lunch before crossing the Kachidoki Bridge to Odaiba, home to many tourist attractions such as the teamLAB Museum, Palette Town and Toyota Town showcases.
Why is Australia so attractive to Chinese tourists?
Docomo Cycles can be found everywhere in central Tokyo. To find a bicycle, just open the station map through the Docomo Cycle website and rent it online with an IC card or with a credit card.
Pro tip: Bike codes can be used to temporarily lock and unlock your bike, allowing you to park and park your bike anytime, anywhere.
10 Great Dim Sum Restaurants In Singapore
6. Singapore
Cycling as a form of urban commuting has become even more challenging with the Singapore government recently enacting tighter legislative controls on bike-sharing company fleets. However, urban cycling remains popular in bike-friendly areas of the city such as Marina Barrage along Gardens by the Bay, East Coast Park and Instagram hotspot Joo Chiat.
International bike-sharing brands ofo and Mobike recently withdrew from the Singapore market due to new regulations. Luckily, Singaporean startups SG Bike and Anywheel are still in business. If you want to try something different, e-scooter sharing companies Telepod and Popscoot can be found in the CBD, Marina Bay and the marina.
15 Tips to Make the Most of Your Hotel and Airbnb Stays
Pro tip: Be aware of Singapore's tropical climate, and if you plan to spend the day biking or scootering, prepare accordingly.
Want more stories like this?Sign up here. Follow STYLE Facebook, Instagram and Twitter