Sri Lanka
【Swiss Hotel Nankai Osaka】Enjoy summer early!"Beachside Summer Afternoon Tea" with cute floats and beach chair sweets will be served from Thursday, June 1 | Swissôtel Nankai Osaka Press Release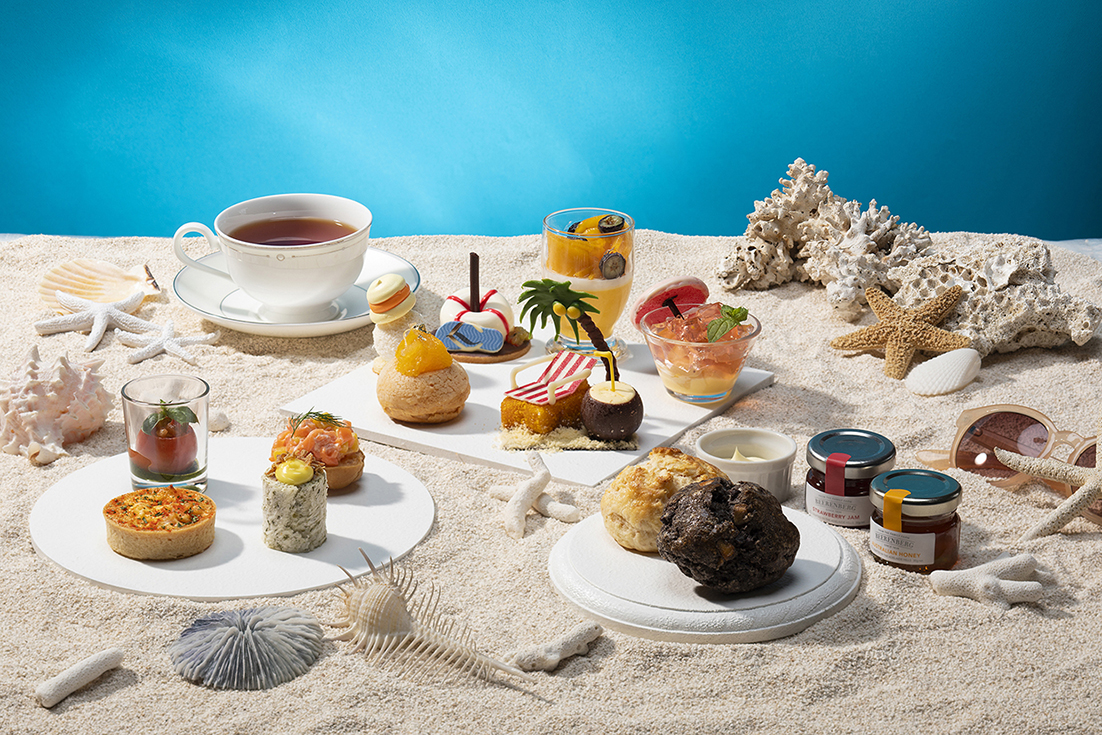 The real summer is coming. Why don't you have an afternoon tea, fully feel the summer with your eyes and tongue, how about welcoming the summer in advance?
For dessert, there's white peach candied gelato using fresh fruit, luscious pineapple yogurt mousse and sweet and sour mousse, and a refreshing passion fruit chocolate pound cake that looks like a beach chair. We will be launching a range of early summer refreshing flavors such as 'Passion Fruit Pound Cake' and tart 'Citrus Marshmallow' with meringue designed in the shape of a hat. The savory menu includes spicy curry sausage and curry cabbage seaweed sandwich, seafood quiche, and colorful summer vegetables such as tomato and ratatouille. We have prepared 4 types including "basil" that inspires a summer mood.
The all-you-can-drink tea buffet is the highest-grade "teapot series" not released in Japan by the premium Sri Lankan tea brand "Dilma". Enjoy the luxurious taste of black tea carefully selected for aroma, taste, and comfort, and afternoon tea with colorful seasonal fruits.
◆ Introduction to "Summer Afternoon Tea by the Sea"
When: Thursday, June 1, 2023 to Monday, July 31, 2023
Venue: "The Lounge", 6F, Swissotel Nankai Osaka
Business hours: 11:00-18:00
Price: 5,000 yen on weekdays, 6,000 yen on weekends and holidays
* Dierma "Teapot Series" with tea buffet (2 hours)
Reservations and inquiries: 06-6646-5004 (direct dial) or TheLounge.Osaka@swissotel.com
Reservation URL: https://www.tablecheck.com/shops/swissotelnankaiosaka-thelounge/reserve
Official website:
https://swissotelnankaisaka.com/ja/offers/thelounge-beachside-summer-afternoontea-ja
menu:
candy
・Mango pudding and coconut sauce
・White peach candied jelly
・Pineapple Yogurt Mousse
・Passion Fruit Pound Cake
・Citrus cream puff
・Milk chocolate and coconut mousse
・Citrus Marshmallow
salty
・Seafood Quiche
・Sausage curry cabbage seaweed bread sandwich
・Smoked salmon puffs
・Tomato, Ratatouille, Basil
scones
・Original scones
・Chocolate Banana Scones
Dierma "Teapot Series"
The best series of Ceylon black tea brand Dilmah,
The "teapot series" is "the best black tea".
Swissotel Nankai Osaka is the first hotel to land in Japan. Since it has not been listed in Japan, it is the only hotel in Japan where you can taste this rare black tea. Experience the unique flavors of the land of black tea in Sri Lanka at Swissotel Nankai Osaka.
*Prices are inclusive of 13% service charge and 10% GST.
*Contents and fees are subject to change without notice.
*All photos are images.
Interior view of "The Lounge"
"The Lounge", soft interiors create a relaxing space. Enjoy seasonal cakes and desserts, enjoy a calming tea time afternoon tea, or round off an elegant afternoon with champagne and cocktails.
【Location】Swiss Hotel Nankai Osaka 6F
(Business hours) 11:00 – 18:00
[Number of seats]100 seats
(Official site) https://swissotelnankaiosaka.com/en/restaurants-and-bars/the-lounge/
Swissotel Nankai Osaka is part of Swissôtel Hotels & Resorts. We are located in Osaka's most dynamic "Minami Ward", a hub of business, culture, shopping, gourmet food, fashion and entertainment, offering unparalleled convenience. As a luxurious city gateway, it is the only hotel in Osaka directly connected to Kansai International Airport and railways. It is located directly above Namba Station, a transportation hub in Osaka, with easy access to historic Kyoto, world heritage ancient capital Nara, and the international port city of Kobe. It is equipped with various facilities such as 6 restaurants and bars, fitness center and spa. The hotel has won many honors such as "TripAdvisor Excellence Award", "World Luxury Hotel Award", "World Travel Award" and the American wine magazine "Wine Spectator" wine list award. For reservations and questions, please call 06-6646-1111 or visit the website (www.swissotelnankaiosaka.com/ja) or consult your local travel agent.
Swissôtel Hotels & Resorts is a world-renowned Swiss brand dedicated to the tradition of Swiss hospitality, bringing you a fresh and rejuvenated feeling in the Alps. It is known for its modern, intelligent design, superior craftsmanship and commitment to sustainability. We provide a relaxing moment for global travelers to discover the true joy of life and experience "Living Well". The Swissôtel brand was established in 1980 and currently has more than 30 hotels worldwide. These include flagship properties such as Swissotel The Bosphorus Istanbul, Swissotel The Stamford Singapore and Swissotel Moscow Krasnyholmy. Swissotel, a member of AccorHotels, the world's leading travel and lifestyle group, offers hospitality through more than 5,000 hotels, resorts and residences in 110 countries around the world.swissotel.com | www.all.accor.com website | Accor Group