South Korea
【EC/D2C personnel must read】Channel Talk will release the "EC powerhouse South Korea's rapid growth EC success case collection" that summarizes the EC corporate brand strategy for free | Channel Corporation Press Release Co., Ltd.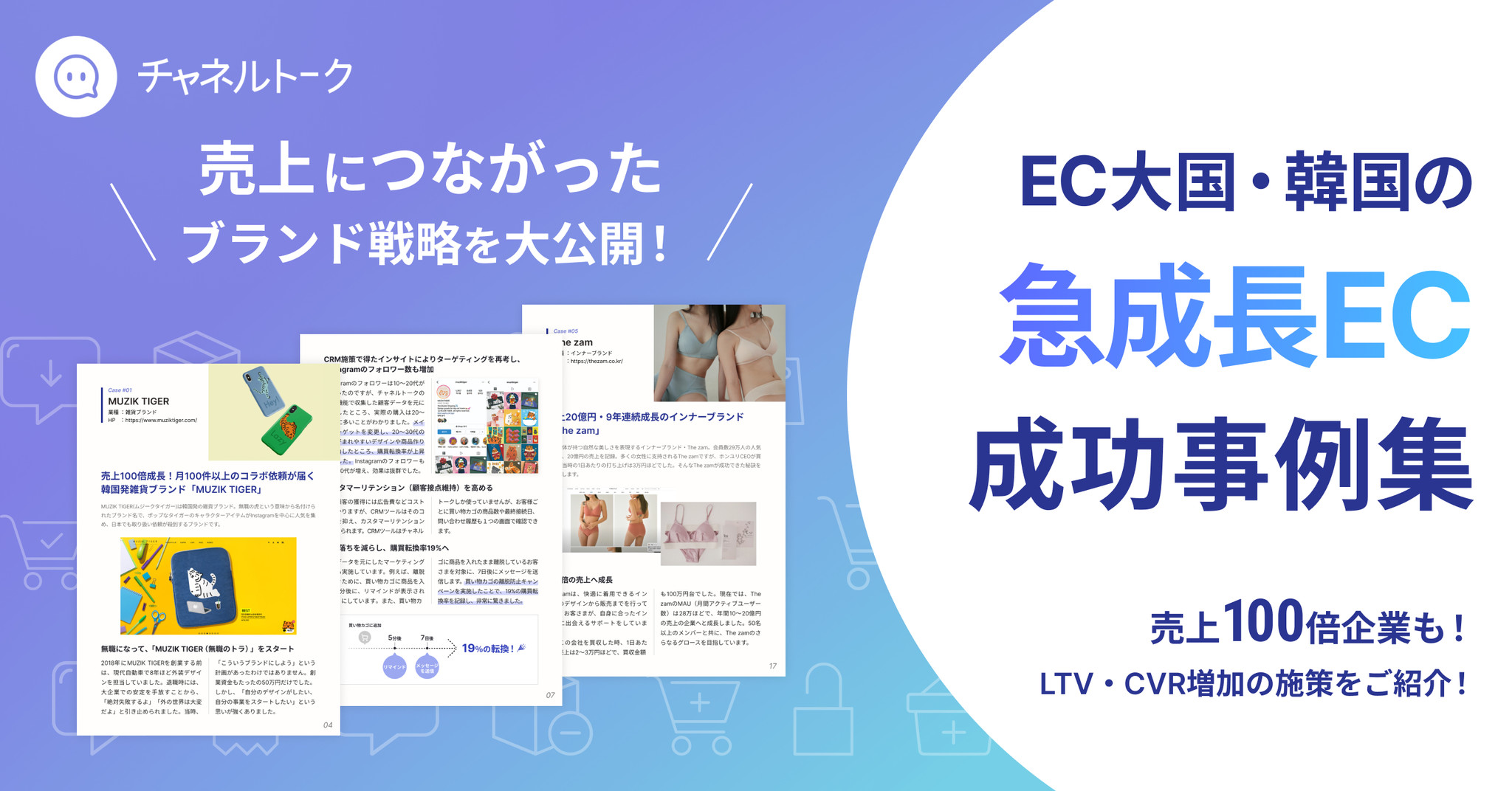 Key elements of this case study
In this series of successful cases,A grocery brand that achieved a 100-fold increase in sales by creating popular characters based on customer feedback"or"An underwear brand that has been continuously improving based on customer feedback and data and has grown for 9 consecutive years" and other successful cases.
In every successful case,We asked each company's reps and managers why they were able to succeed in their e-commerce business by listening to their customers.On every page, we use plenty of infographic illustrations, actual chat screens, and product images to explain how improving the customer experience can lead to growth.Examples of measures such as chat customer service, CRM, and marketing are all practical content, please use them in the development of EC/D2C.
You can learn about the following cases.
・tiger music(Sales 100x, grocery brand from Korea)
・Palensenga(Sales 1.3 billion yen, sex lifestyle brand)
・pet friend(Sales 6.1 billion yen! Industry No. 1, pet supplies delivery service)
・d. code(7 times growth in 2 years, pre-order business)
・zam(Sales of 2 billion yen, an underwear brand that has grown for 9 consecutive years)
・TRDST(Sales of 900 million yen, innovative high-end furniture platform)
▼Some documents
Download the success case here: https://contents-jp.channel.io/cases-in-korea/pr
・Customers who come to the siteCustomer Experiencewant to improve
・It is difficult to attract customers through advertising, EC/D2CTurnover Rate (CVR)want to improve
・the true voice of the customerwant to improve service
・Automate and simplify query responseSo, I want to respond more closely to the customer
・EC big country・I want to know the success stories of Korean EC
With a mission to "support the 'sustainable growth' of businesses", Channel Talk is a "customer service chat that creates passionate fans" that connect businesses with "customers" who are the drivers of growth. Currently, it has been introduced to 90,000 sites, mainly EC. It can be used not only for regular customer support that reactively solves customer problems, but also for customer success that proactively improves customer experience, customer service, customer management (CRM), branding, and fan creation.
(Introduction example (section)) Introduced to more than 90,000 sites, mainly online stores
Service site: https://channel.io/ja